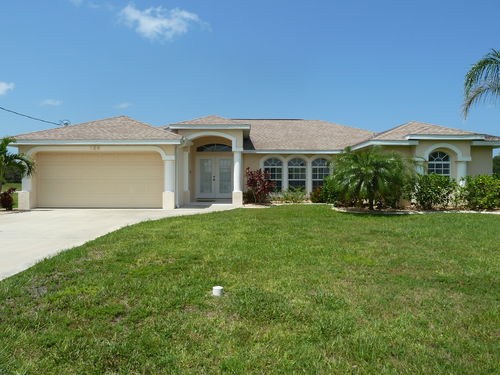 4 Bedrooms, 3 Bathrooms, Capacity: 8
From $1150 per week depending party size and

Rates include all Taxes , Local Tel calls,

and end of stay clean

Pool Heating if Required $95 Dollars per week

Photo Gallery

Property Description
Bedrooms: 4. Bathrooms: 3


www.pinevalleycreek.com [1] Our Website.
Pine Valley is located within the Rotonda on the South West coast of Florida in Charlotte County, often referred to as Florida's hidden secret, or the real Florida. It is near the beachside town of Englewood on the Gulf of Mexico. The International Airports of Tampa (1.5 hours) and Fort Myers (1 hour) provide easy access to this area. Englewood has over 27 miles of white sandy beaches, many of which are almost deserted during the week. With Manasota Key to the North and Boca Grande to the South, our villa is perfectly located 15 to 20 mins drive to these fabulous beaches where pelicans fly overhead and dolphins swim in the sea. Englewood is one of the last parts of the Florida coastline to be discovered and is being developed on strict guidelines. Nearby Port Charlotte caters for all those craving retail therapy with a large Mall, whilst the Outlet Malls of Sarasota are 45 mins drive away. Rotonda consists of many beautiful homes, which have been built on large lots amidst natural lakes, canals and golf courses. Many Americans and Canadians have made this area their home and you will be staying in a quiet and peaceful residential community. Which is also home to an array of Florida wildlife including pigs, raccoons, bobcats, turtles, alligators and a variety of birds. A nature reserve and conservation area has been maintained in the centre of the Rotonda, where you can get close to 'Real Florida'. With stunning beaches, fantastic wildlife, golf, and an array of attractions nearby, surrounded by numerous restaurants and excellent shopping opportunities, our villa is ideally situated to enjoy all this area has to offer. We have a very helpful and efficient management company, who look after the maintenance of the property, which includes weekly pool service, lawn maintenance and cleaning after your stay. In addition to office hours for general help and advice about the villa and the area, they are available 24 hrs a day in case of emergencies. This stunning villa is spacious and fully air-conditioned and sleeps up to 8 people. There are 4 bedrooms including 2 master suites (one king and one queen) and 2 twin bedrooms which share a further bathroom. Both master suites have their own TV / DVD. There are 2 separate lounge areas one of which features a 40 inch TV. The other serves as Dining Area for those more formal ocass
Links: ------ [1] http://www.pinevalleycreek.com
Photos
Owner Contact Information
Private Owner
derek
Langdale Close , Timperley
Altrincham Cheshire UK, WA15 7QW
Phone:
Website:
Click here
Member Since:
Jan. 6th, 2007
Other Listings:
Contact the Owner
Rental Rates
From $1150 per week depending party size and
Rates include all Taxes , Local Tel calls,
and end of stay clean
Pool Heating if Required $95 Dollars per week
Amenities
3 Tv's
, DVD
, CD
, BBQ
, 4 Bikes
, Pool Toys
, Internet Connection
, Free Tel Calls, USA
, Free Tel Calls Canad
4 Bedrooms, 3 Bathrooms, Capacity: 8
Beds: 2 Master Suites , 1 King,1 Queen, 2 Twins
Minimum Stay: 4 Night Minimum (Cleaning charge $120)


Lakefront, Lake View
Further Information
Not Peak Season
Restrictions: - No RVs,
Nearby Attractions: - The soft Gulf beaches stretch for miles and never seem to be crowded. Most beaches have public amenities and those around Englewood are safe for young and old alike.The heat is often relieved by inshore breezes from the Gulf which provide a welcome break. Local golf is in abundance, the nearest one being Long Marsh Golf Club some 7 mins walk from the villa. Restaurants and Shopping opportunities are everywhere
Reviews
Average Rank 5 Stars from 14 Renter Reviews

July 21st, 2016
Best Villa
Title: Best Villa Rating: 5 Review: We have just returned after 2 wonderful weeks.. After a hectic week in Orlando it was wonderful to spend 2 relaxing weeks at this beautiful villa. This was our second visit, the first being in 2010. We never even considered looking anywhere else. If anything the villa is even better equipped than it was back then. We doubt there is better equipped and maintained villa in Florida. Dealing with Derek is just like having your best friend holding your hand. He is the font of wisdom about Florida, in particular about Rotonda West and its surrounding area. His attention to detail is second to none and you just know that he really cares. Every detail is covered with nothing left to chance. The location of the villa is brilliant. Very private overlooking the canal. Birds of all description visit along with the odd alligator and if your lucky you may see the bobcat. Don't look any further book it now. You won't be disappointed. Date of stay: 21/08/2016 Party name: John Paine Screen name: John & Rachael Paine and Family Location: Wythenshawe, Manchester, UK

6 Years Later
See review Malou Volkers The Netherlands July 2010: My husband and I were lucky enough to indeed be back for 8 nights last April and it was as if we had never left! Nothing had changed and the villa was still as well-maintained as it was 6 years ago. This time there were only the two of us so we didn't really need all that space but we enjoyed feeling at home and the tranquility very much. We saw all kinds of birds, wild boar, a big Gover tortoise crossed the street one time, a manatee swam by at 2 meter distance at Gasparilla Island when we stood knee-deep in the water and one evening we even spotted a coyote near Rotonda North Blvd! We have seen a big part of Florida by now, having traveled around 2 times 3-4 weeks, and have decided there is no better place to stay and no better placed villa in the best part of Florida, so next time we'll just stay at the villa for 3 weeks and visit places like Siesta Key, Tropicana Field St. Petersburg (1,5 hours by car), Port Charlotte, Fort Myers, Sanibel Island etc. by car from this lovely villa with all its comforts. Why bother finding another place if there is nowhere better than there?! We definitely hope to be back again soon! Thanks Derek and Wendy, we had a fantastic time again!!! Date of stay: April 2016 Reviewer name: Malou Volkers, The Netherlands

September 5th, 2013
Spacious villa in a great location
This villa was ideal for extended family occupation with the 2 ensuites and 2 other bedrooms with 4 single beds and another bathroom, the pool was great and the villa was well presented with all that is needed to make your stay comfortable also plenty of beach sized towels available for use. The villa was also very clean all around. Also located in a very quite location by itself with no close neighbors Highly recommended Terry High Wycombe, United Kingdom September 2013

July 14th, 2013
Relax in the Real Florida
Relax in the Real Florida Villa ideal for a family group with 2 master ensuites. Located in quiet location within overall Rotonda development. Very close to Golf Club house and 3 challenging 9 hole courses. Excellent access for local beaches, supermarkets and the Mall at Port Charlotte. Overall a great villa and Derek was on hand to answer any queries before and during our stay. Thanks again for letting us rent your villa. Would definitely recommend. Andrew Scotland July 2013

Amazing rental in Rotonda, The perfect place to be
If you are looking for an extremely quiet and private location this four bedroom villa more than fills the bill. Located at the end of a street traffic is minimal. No neighbours on either side add to the feeling of exclusivity. All amenities are close by with a ten minute drive to Englewood,Placida or fifteen minutes to Port Charlotte. Golfing ,fishing and shopping are virtually on your doorstep.Walking trails and bike routes are a one minute walk. The house itself is great with all amenities and the management company is the best I have encountered in my previous stays in Rotunda.The owner is excellent to deal with. Bob, Ontario Canada, March 2013

January 25th, 2013
The Nicest Home we have rented for Winter Vacation
THANK YOU Derek and Wendy. Your home is beautifully decorated and furnished. It lacks nothing in the line of pots, pans and utensils. More than adequate bch towels and linens. We were happy to see a bobcat on 3 occasions and alligators in the lake. It was so relaxing to sit on the lani to listen and watch the many birds who frequent the area. The pool was nicely heated and we made good use of it. Before we left we were sure to have our vacation home booked for 2014. A GOOD TIME WAS HAD BY ALL.. Marilyn, New York USA March 2013

December 22nd, 2012
Christmas Break Rotonda
Christmas Break Rotonda We were very satisfied with the accommodations during our 10 day stay in Rotonda. The house was very clean and well maintained. The layout of the house was great with kitchen and family room centrally located and two main bedrooms on the opposite ends of the house. The location of the house was private, the pool very nice and the lanai very specious and well equipped. The owners are very nice, easy to deal with and helpful. For us the best beach was on Gasparilla Island, the $6 bridge fee is well worth the visit. Boca Grande is charming and great place to visit on the way to the beach. Sofia from Atlanta Georgia USA January 2013

October 7th, 2012
Beautiful kept villa, Peaceful and Private
A beautifully kept villa in a very peaceful & private location Left on 11/03/2012 for a stay in October 2012 I cannot fault the service provided by Derek Birchenough prior to & during out stay at the villa Tranquility. The location is perfect for a very peaceful & relaxing holiday. The villa is very spacious & very well kept, perfect for two families or extended family. The pool & deck area are lovely and really private with plenty of space for children to play with an area to relax & eat under the lanai. There wasn't anything that we thought I wish they had ... - it was all there. There are plenty of beaches to choose from & many restaurant options although we chose to eat (barbeque) at the villa most days as we were all so comfortable there. We travelled up to Orlando to do 'Disney' for 3 nights midway into our holiday which was amazing but was also nice to know we had the villa to come back to for a few relaxing days before returning home. Look forward to returning one day. Anne, Uxbridge Middlesex UK

July 11th, 2012
Wonderful Homely Stay
Wonderful Homely Stay What a great find! We booked based on all the great reviews and weren't disappointed. The pictures are very accurate and the unit was so clean and perfect. The house is very nice. Bed was very comfortable. Everything is top quality. No sparing of expense here. Michael from Denmark

April 1st, 2012
Heaven
Review #5182132 Heaven Thank you Derek and Wendy for allowing us to use your beautiful home. We had everything we needed and more. The villa was so peaceful and quiet. We visited the local beaches and did some shopping in Englewood and Port Charolette. We actually went to the zoo at Naples and took our 3 year old grandson. He had a blast. The binder you left with things to do was greatly appreciated. When we come back in april there are several local eatery places we are going to try. The boys enjoyed golfing at the local courses and the golfing was excellent. Next year we'll be flying into Fort Myers which is closer to your villa. Thanks again for everything. It was a pure joy booking with you and you making things so easy and comfortable for us. Take care and we are looking forward to april. Doug and Norma

May 1st, 2011
Peace and quiet and truly unique surroundings
We truly enjoyed our stay at Tranquility. Something for everyone, a very quiet, friendly neighbourhood with everything close by. My wife and I had great days at some terrific beaches (usually within a 10-15 minute drive) from the villa, and really enjoyed our bike rides every morning and walks around the picturesque golf courses beside us. Getting up every morning to enjoy a coffee outside and listen to the many birds singing was very relaxing. The canal behind the property is beautiful and abounds with many waterfowl especially very early morning. One of the biggest surprises was when one evening the bobcat bounded through the back yard over the canal bridge and into the trees! All in all it was just a great, very relaxing vacation .The villa is very clean and well maintained in a quiet, safe neighbourhood. It was a pleasure dealing with Derek Birchenough who had everything very well organized,(instructions in the house were great also) and we encountered no unwanted surprises, before, during or after our stay. We would highly recommend this villa and the owners to anyone wanting a memorable vacation! May 2011 Ralph Canada

Large, beautiful villa with great sunset view from the lanai Great accommodation for a large family or even 2 families, since it has 2 master bedrooms both with ensuite bathrooms - the one in the #1 masterm bedroom is something to behold - plus another full bathroom for the other 2 bedrooms. The south-west exposure for the lanai/pool area gives you sun from 9 in the morning until sunset - a spectacular view. The privacy of the villa since it is located by itself at the end of the street allows you to enjoy a very peaceful and relaxing vacation. Added bonuses are the 4 or 5 bikes that the owner has porovided - one with a baby seat attached - and all kinds of floats and toys for the children to use at the pool or the beach. As you are relaxing pool side in the lanai, you may see all kinds of wildlife especially many species of birds etc. More... · By ward from corunna, ontario, canada on 3/6/2011 for a stay in 2/1/2011

July 21st, 2010
Beautiful Villa in a great location
Guest Review from angieb1109@live.co.uk - Jul 21, 2010 "A beautiful villa in a great location" Six of us stayed in the villa and though it was great! It is exceptionally well equipped, very comfortable and was very clean and tidy when we arrived. The owners sent us lots of useful information before we left the UK and kept us up to date on recent viewings of the wildlife. The nearby beaches are very good and we found plenty of good places to play golf and eat out. I would definitely recommend this villa and location.

Tranquilty
"Tranquility is such an appropriate name" The villa was a tranquil delight. If you are a bird lover as I am it was a real treat. In the morning you share your coffee with the symphony of birdsongs. From simple mockingbirds to herons and whole flocks of ibis and the egrets are a photographers dream. We wanted for nothing since the villa is so well appointed. Thank you for allowing us to share the tranquility and our grandkids enjoyed the fishing and views of alligators. The trips to Boca Grande and looking for sharks teeth at Englewood and Caspersian beach were wonderful too. Thank you again. Amy
Add a Review