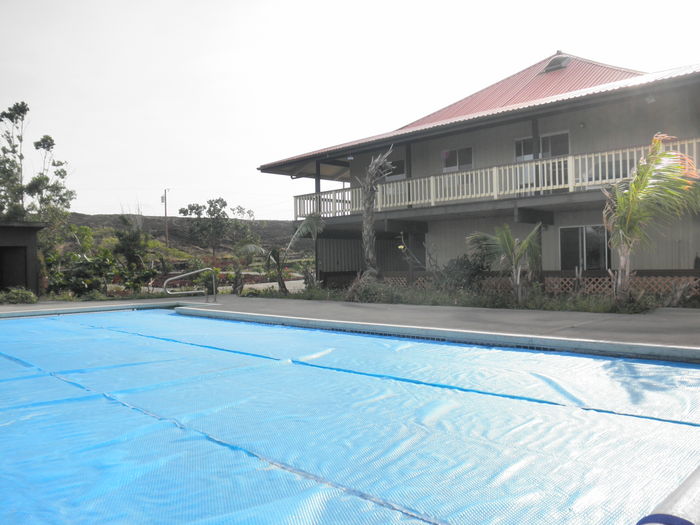 Owner's Calendar
3 Bedrooms, 2 Bathrooms, Capacity: 8
Owner Contact Information
Private Owner
Bob
N College
Fresno, CA 93704
Phone:
Website:
N/A
Member Since:
Nov. 24th, 2009
Other Listings:
View here
Rental Rates
3 Bedrooms, 2 Bathrooms, Capacity: 8
$135 Per Night $810 Per Week 1-4 people
$10 extra per person from 5-8
13.25% tax will be added.
50% deposit at time of booking
Studio can be rented w this home at discount
Property Description
Bedrooms: 3. Bathrooms: 2




Do you long for… The majesty of a panoramic ocean view lit by the glow of a tropical sunset? The grandeur of a star-filled sky unbroken by streetlights or civilization? The relaxation of watching ocean waves and swaying palms from your private lanai? The enjoyment of a steaming cup of coffee, a good book, and a beautiful sunrise? The solitude of a perfectly quiet evening touched only by the sounds of birdsong and breezes? But also want… The fun of swimming and relaxing in your private pool and sun deck? The joy of swimming and snorkeling with the turtles at a stunning black sand beach? The excitement of exploring a volcanic wonderland of lava flows and ancient caverns? The romance of a soothing spa and glass of wine under a tropical sky? The convenience of nearby shopping, gas, dining, and community library/clubhouse? Then this might be the perfect spot for you to enjoy your stay in paradise! Located 45 miles south of Kailua-Kona and 60 miles from Hilo, we offer the wonderful experience of "Old Hawaii" with its serenity, quiet, and charm. In addition, we are perfectly located to allow you to explore both sides of the Big Island. A five minute trip up to the highway takes you to the growing town of Ocean View, with its restaurants, grocery and hardware stores, gas stations, and an active community center. Nearby must-see attractions include the black sand beach at Punalu'u, the green-sand beach and cliffs at South Point, Volcano National Park, and Kula Kai caverns. For the hikers, don't miss walking about 2 ½ miles down to the beach and lagoon at Pohue Bay where you will likely have it to yourselves (especially on a week day). A quick trip to the quaint town of Na'alehu lets you avail yourselves of organically grown local produce, local style restaurants with live music, and a fabulous bakery. Journeying a bit further takes you through lush rainforest to the Kipoho Tidepools with its fantastic snorkeling and abundant sea life. On the Kona side, you can take time to kayak with the dolphins in Kealakekua Bay and enjoy one of the best snorkeling spots in the state! Of course, you can always head up to Kona or Hilo and enjoy the many sights and experiences they offer and still have plenty of time to return home for dinner on the lanai at sunset.
Photos
Amenities
Pool and Spa
, Home Theater S.S
, Dish Network
, Broadband Internet
, BBQ
3 Bedrooms, 2 Bathrooms, Capacity: 8
Beds: 2 King, 2 Twin, 1 Queen Airbed Available
Minimum Stay: 3 Night Minimum




Water View
Further Information
$100 cleaning fee, $350 refundable security/damage deposit
Restrictions: - min age 25 (exc children
Nearby Attractions: - Black sand beach, Golf, Hiking, Pohue Bay, Snorkeling, Kayaking, Kipoho Tide Pools, Natural Hot Springs, Volcano National Park
Reviews
Average Rank 5 Stars from 14 Renter Reviews

November 19th, 2011
Beautiful property, helpful owner
When I arrived, I was greeted with a place even more appealing than what the pictures showed. We really enjoyed looking out at the ocean from the house and in the evening, sitting on the porch that wrapped around the whole house. The location was quiet, expect for the sounds of the birds, and the sky was filled with stars since we were away from the city lights. Although the property was very much a peaceful evening retreat, it was also not far from many outdoors activities. One day we went to the lava carverns just 10 minutes. Another day we went to the active volcano less than an hour away. Both the black and green beaches were less than 30 minutes away where we were able to come up and personal with three giant turtles. Also, on the way to the black beach there is a small town that pleasantly seems lost in the 50s or 60s. It has the southernmost bakery in the United States where we tried homemade sweet bread. Being that the house was between Hilo and Kona, it was possible to visit both the waterfalls near Hilo and the beaches near Kona on relaxing day trips. However, the best part of the experience was that the owner made himself available to answer questions even during the trip itself to help us find some off the beaten path locations nearby. I truely believe you will have a great relaxing adventure like we did with the house that is fully stocked with all the things that you might need. Rating: 5 out of 5 Scott, we are so glad you enjoyed your time in the home and on our favorite of the Hawaiian Islands! Thanks for taking the time to post a review and share with future guest about the attractions close by. Thanks again for choosing our home for your vacation. Bob and Sue
Owner Response: Scott, we are so glad you enjoyed your time in the home and on our favorite of the Hawaiian Islands! Thanks for taking the time to post a review and share with future guest about the attractions close by. Thanks again for choosing our home for your vacation. Bob and Sue

November 13th, 2011
Splendid Isolation
after a busy weekend in Waikiki my wife and I found this to be a great place to escape to. If you're looking for peace and quiet this is it, this is a great place to disconnect from the rest of the world. There is a big collapsed lava tube about a 1/4 mile up the dead end road. The moon was close to full when we were there and lunar landscape of the surrounding a'a lava at night under billions of stars is a sight we will never forget. I recommend that iPhone/iPad users download one of the astronomy apps to help identify all of the extra stars. We enjoyed having our coffee on the lanai in the morning and swimming in the pool in the afternoons. The rental process was easy and so was checking in and out. Everything was clean on our arrival and the property exceeded out expectations. The ceilings are very high giving the place a wonderful open airy feeling. Most days and nights we had the windows open to allow the ample breeze through. There are 2 small grocery stores close by with everything that we needed, as well as a hardware store and gas station. If we get a chance to return to Hawaii we hope to spend more time here and next time we will most likely bring some friends, there's plenty of room.
Owner Response: Derick, I am so glad you and your wife enjoyed your stay. The night skies are pretty spectacular, aren't they! And I would echo your recommendation to android users as well...there are some great astronomy apps out there!And of course we would love to have you back! Thanks again for staying with us and your kind review. Bob and Sue

November 19th, 2011
Vacation on the Big Island
Bob's house is the ideal place to stay. It is beautiful, comfortable, and inclusive of all the amenities you'd need. We had a bathroom and bedroom for each couple. We could sit comfortably in the living room, dinette, outside wrap-around porch, or in a sitting room with a beautiful view out onto the ocean from most locations. We had internet access as well as laundry and kitchen facilities. It is ideally located from which to visit all the places in and between Hilo and Kona. We would easily choose to stay again in this perfect vacation house.
Owner Response: Scott, we are so glad you enjoyed your time in the home and on our favorite of the Hawaiian Islands! Thanks for taking the time to post a review and share with future guest about the attractions close by. Thanks again for choosing our home for your vacation. Bob and Sue

July 31st, 2011
big island adventure
when we arrived at the property we were surprised by the landscape - coming from Canada, we thought of Hawaii as being lush and green. Of course, we were on the Big island to see volcanoes - good introduction! after a day, we were very happy - the seclusion, the quiet, the views, the wind keeping us comfortable and bug-free. the house is very well appointed and close to amenities where the people are friendly and obviously proud of their community. Our days always started with a Kona coffee on the lanai watching the ocean - reading and figuring out the plan for the day. Our days ended with a swim or hot tub and dinner on the lanai. we were close to volcanoes national park and were able to spend two days there. We also visited South point - southern most point in the US - beautiful! We loved the fact that you go 5 minutes east and it's green and rainy. We hiked down to the beach hoping to see hawbill turtles who were starting their nesting season. there are park rangers there monitoring the turtles - no luck this day - but the hike was interesting and the beach was beautiful - a little rough for swimming that day! We did love our stay at what we refer to as ""lava house"". Also, whenever we had a question, the owner was always available to answer questions, and there was a guy who helped manage the property who gave use lots of information about what to do in the area -= that was very much appreciated! We still miss the views!
Owner Response: Marc, we are glad you had a good time. Sounds like you got to do and see most of what you wanted and still had time to enjoy the house and pool/spa!. Thanks again for choosing our home for your vacation. Bob and Sue

July 21st, 2011
A home that makes it very hard to leave
We have been expats (Americans working overseas) for ten years and every year when it is time to go see family we do multiple rentals. We've seen a lot of rentals and this one tops them all. First of all the house is much bigger than shown on the photos. Everything is roomy and the high artisan wooden ceiling just gives the house a feeling of great expanse. The décor is very tasteful, it is beautifully arranged and just made the place dynamic and place appropriate. What also makes this a five star is that there is everything we could possibly need: beach towels, a line to hang swim apparel between soaks; kitchen utensils galore (I had to cook multiple-course meals for picky people so I would know), storage containers, cleaning supply, games, books, a quiet Media room connected to the internet, TVs (I say: toss the TV and have an adventure)... The dining ware was beautiful, not just plastic or second-hand. Everything is tip-top clean. The outdoor has a big lap pool with terrace and lawn chairs (w/ safety gate for small kids). The setting is amazing: vast expanse of basalt: we spent hrs looking for rock specimens. There's a collapsed lava tube just 5 min away which was featured in the documentaries: "How the Earth was Made". If you are into hiking you go south to secret beaches and old Heiaus (ancient Hawaiian temples). If you're a runner bring the shoes: the off-roads are unlimited and the temperatures are a relief compared to elsewhere on the island. If you have a telescope or a pair of binoculars (there's a pair of binocs there), take them with you: the house is perfect for the aspiring or seasoned astronomer alike (no obstructions and light pollution). You can see the Southern Cross Constellation from the lanai. The place is as quiet as can be. We just loved the location: Close to the Southern Point attractions/beaches, not far to the volcano and if you are a paddler, close to Kealakekua Bay (Captain Cook). The drive up to Kona is one of the most spectacular views on earth and is worth the drive. The nearby village of Na'alehu is a quaint and the bakery is a great way to make friends and is a hangout for local scientists who will give you mini-lectures over a cup of coffee. The development offers Grocery store, a hardware store and a myriad of little shops. If you are into hiking, nature photography, surfing, paddling, birdwatching, earth/space sciences or if you want a place that offers a refuge from stress, this is the ultimate place for you!
Owner Response: Dave and Annie, Thanks so much for your gracious review. It makes us want to be over there instead of here on the mainland! We are so glad that the home exceeded your expectations and made it hard to leave! That is what we strive for. And we agree with your comments about the spaciousness of the home...it does feel larger than 1700 sq. feet. I am sure the high ceilings and layout help.Thanks again for selecting our place for your vacation.It was a pleasure getting to know you! Bob and Sue

October 2nd, 2011
Big Island Adventure
My wife and I have visited the Hawaiian Islands on several occasions however we had not set foot on the big island of Hawaii prior to this trip. Originally we thought our vacation would entail just relaxing and soaking in the sunsets . I should add that this home is a perfect place to relax and soak in sunsets if you want to limit your activities and just get away from it all. We soon discovered this retreat is a perfect launch point to explore the black sand beaches, volcanoes, and of course see giant sea turtles up close. Located about equal distance from the towns of Kona and Hilo this property allows you to access the two distinct climates of the island if you wish. Once our exploration mode kicked in we were able to see and visit a different part of Hawaii most every day. As stated in other reviews, the owners of this property are consummate hosts and are determined to ensure you have a great time while visiting Hawaii. You will find Bob and Susan to be most helpful in everything from finding grocery stores to rental cars. The whole package is both enjoying their lovely home and experiencing their wonderful hospitality. Enjoy!
Owner Response: Dale, I am so glad you guys enjoyed your time in the house and on our favorite island! I can hardly wait to see you again on your next trip over! Thanks for your gracious review. Bob and Sue

March 12th, 2011
Lovely home and charming owners
We stayed at this property for three nights in March 2011 and thoroughly enjoyed our stay. We were lucky enough to have the owners, Bob and Sue, downstairs during our stay. They are wonderfully charming people and did everything they could to make our stay a pleasant one. Communication with Bob was prompt and always helpful. The description and photos of the property are accurate and complete, though it still surprised us a little bit. Hale Maluhia is located on an old lava flow, and is a distinct contrast to the property we stayed in on the south-east coast, near Hilo, where the surroundings were rain forest lush. If you grew up on the prairies, like I did, you'll feel right at home. You can literally see for miles in any direction. The wind was quite fierce for the time we were there, but Bob advised that it diminished right after we left. Our 4-year-old loved the pool, and satellite TV. We enjoyed the big bedrooms, and peace and quiet afforded by the location. We also enjoyed the internet access, as the other places we stayed on the Big Island didn't have any. Everything was clean and well maintained. Many reviews have commented on the nearby attractions, so I won't go into too much detail on them. The highlight for us was the Green Sand Beach. Contrary to other reviews, you don't need a 4x4 to get to it. You can walk from the parking area to the beach, with a 4-year-old, in a little over an hour. Granted, I did have to piggy-back him most of the way out, but it was well worth it! We would highly recommend this property to anyone who wants to get away from the hustle and bustle of standard tourist destinations and wants to enjoy the sunshine and unwind. Mahalo to Bob and Sue for allowing us to enjoy their future home.
Owner Response: Thanks, Marlon. It was fun spending some time together and chatting. We are glad you enjoyed your stay! And I agree...there is quite a contrast between the wet side and the dry side of the island. We just saw a report that said Hilo is the rainiest spot in the US again this year. And the winds did die down after you left, but in the interest of full disclosure, the tradewinds do blow pretty steadily down by our place! It does keep it nice and cool, though! Thanks again for staying with us... Bob and Sue

May 4th, 2011
Great house landscape uninviting.....
Great location for what we had planned; volcano! green sand beach!, black sand beach with turtles! Ocean Rider Seahorse Farm! The internet connection was excellent. The spa was definitely a plus. It was a bit too windy to fight the pool cover more than once. The accommodations very comfortable and clean and well maintained and a kitchen with SHARP knives was definitely a plus. I liked having the laundry and dishwasher. Aside from the landscape which the others mention this place was very much like having a home away from home. Thank you Bob and Sue for all the creature comforts. Bob was very helpful with all questions.
Owner Response: We are glad you enjoyed yourselves! And our caretakers confirmed that you did indeed have to suffer through some unusually windy weather...I guess its been really windy over most of the island. We are usually pretty breezy, but not that bad! And I can sympathize with your comments on the "landscaping". When we were looking for a retirement home, we had to decide on whether we wanted the lushness of the east side with the rain or the austerity of the dry side, but sunny. For us it was a pretty easy decision as we are "sun lovers" from CA, but we still miss the greenery! We try to make up for it by planting our property nicely, but you're still looking over a lava field as you gaze out at the ocean! We were also thinking about buying at a higher elevation where there is more greenery, but we just fell in love with the closer view of the coastline and ocean. Ah, life is a tradeoff! Anyway, thanks for your gracious and honest review. It provides a heads-up to folks considering our property and might save some from disappointment. Bob and Sue PS I hope you did enjoy our birds and friendly geckos. And the skies and sunsets/sunrises...for us it kinds of makes up for the "starkness" of the surroundings...

February 22nd, 2011
Relaxing Stay on Big Island
We thoroughly enjoyed our stay at Bob & Sue's place...the house was very clean, spacious and beautifully decorated and it was great for our 2 teenagers to each have their own bedroom. The kitchen was well stocked with everything you might need to cook meals; and there were lots of towels (including beach towels), and paper supplies that we didn't expect to be included. We enjoyed having our own pool for the times that we were at the house. It was very easy to get in touch with Bob should we have any questions and he was so helpful. The location was excellent for activites south of Kona - Volcanoes National Park, Green Sand Beach (you need a 4x4 to get there!), Black Sand Beach, etc. The surrounding lava landscape was very interesting and so nice and peaceful after the "busyness" of Kona, which is where we spent our first week on the Big Island. And as the other reviewers have commented on, the birds were wonderful! This was the 3rd time we have rented from vrbo.com for a vacation home and we will never go back to hotelling! It is wonderful to have your own space and be able to cook, hang out, and relax whenever you want. Thank you Bob and Sue for being so accomodating!
Owner Response: It was great chatting with you before, during, and after your stay! Thanks so much for your kind words. I am glad that you found that you had everything you needed. we do try to "go the extra mile" to ensure that you don't find yourselves wishing for something that's not there... within reason, of course! We were there in March and are missing it now that we are back on the mainland. Hey, maybe we should write a review....lol

February 14th, 2011
Great place to relax
After a hard day of vacationing on the Big Island it was great to come home -yes, home- to the big, open and roomy house in Ocean View. Our family really loved the island breezes coming in from all the windows. Relaxing in the hot tub and watching the full moon and stars was a great way to end the day. In the mornings when we were all getting ready for the day, 2 full bathrooms and a nice kitchen turned morning madness a smooth operation.
Owner Response: Doug, thanks for your gracious review!! It is so nice that you found our place a true "home away from home! It is always what we hope to provide. Aloha and mahalo!! Bob and Sue

March 10th, 2011
Relaxing getaway
What a wonderful break we had on the Big Island! Very peaceful and relaxing which is what we both needed. We rented both up and downstairs just for the privacy, so it was like our "home away from home"! Really, the other reviews cover everything, including the spa, and we loved the birds. Didn't see gekkos for a few days then they got used to our presence I guess and decided to bring their good luck to us. We took beautiful day trips to the Black Sand beach, Na'alehu (Hana Hou and Shaka are both great restaraunts!) And lots more! There is a grocery store close by, along with other community happenings. I thought the stars and sunrises were the best way to end and begin the day. Gorgeous! I would recommend it for a family vacation.
Owner Response: Thanks, Kathy!. I agree that the sunrises and stars are highlights of the location. But I must admit, I do like sunsets from the deck looking out over the ocean after the end of a long day (then a relaxing soak under the stars!) Did you take advantage of "Prime Rib Night" at Hana Hou? It was a real pleasure corresponding with you before, during and after your stay. I hope we can meet sometime! Bob

March 21st, 2011
Big Island Delight!
We were guests of Bob and Sue's from 21-31MAR11 and what a delight. The writeup was very accurate. We had a party of six adults and one toddler and we rented the both upstairs and downstairs: Everything we needed from kitchen needs, entertainment with the Dish satellite, a wonderful pool and spa, and four spacious rooms. There are three markets, a hardware store to refill the spa propane (we used it that much!),and two gas stations within 5 minutes of the house while Ho'okena Beach Park is 30 minutes towards Kona, the famous Black Sand Beach 20 minutes towards Hilo, and a short 60 minute drive to see glow of the very active volcanoes! The location is absolutely perfect. A small group of us actually spent a 15 hour road trip around the entire island going from Kano, to Pololulu Valley, Saddle Road, up to Mauna Kea for sunset, Volcano Park for pictures of 'Glow' at Kilauea and then back to the spa for rest and relaxation...our 4x4 rental was put to the test! And when you read a 'majesty of a panoramic ocean view lit by the glow of a tropical sunset?' and 'The grandeur of a star-filled sky', it is hard to express what a understatement this is. You will never see such a beautiful sunset or the Milky-way like this while sipping a relaxing libation in the spa. But perhaps the best part was the joy of having breakfast with the pair of yellow birds just outside the sliding doors singing away while we watched the Pacific Sunrise: our two year old still 'talks' about the daily song filled visits. Thanks for the great vacation and many memories, hope others take a chance to see the Big Island away from the rest of the rat race!
Owner Response: Wow!!! Thanks so much for the gracious and wonderful review! I can not tell you how much it pleases us when someone enjoys the property and it meets or exceeds their expectations. It was a true pleasure meeting you and your "clan"! Thanks again for your kind words and patronage! Bob and Sue P.S. The birds are really great, aren't they? I hope you met our chameleon friends as well! And say "Hi" to Tyler for us!

January 12th, 2011
Lanikai, restful place
Our family of four (children 9 & 10) highly recommend Lanikai, restful place, as a Big Island retreat/vacation rental, especially if you're looking for a place to relax and get away from it all. Situated on a sort of moonscape lava field with ocean view, Lanikai offers clean, commodious, and well maintained accommodations enclosed in a pleasantly landscaped oasis complete with grill, pool, hot tub, and trilling birds. The house was well stocked with all things we might need, and the town of Oceanview (a five minute drive) has two grocery stores. Also, the owner, Bob, was easily contacted and expertly communicative regarding any questions we might have. While staying at Lanikai one is not likely to bump into other people, however when venturing into the nearby town one will find the local residents relaxed, kind, and generous. Though Lanikai is secluded, out of the way, a short drive (20 min.) to the east, the town of Na'alehu, actually boasts a lush rainforest setting and a quaint artistic community. Punalu'u Black Sand Beach is a beautiful 30-40 minute drive and a lovely place to swim, snorkel, or just hang out with sea turtles. The Volcano National Park is a 45-50 minute drive and packed full of exploratory opportunities. Hilo is probably about another 20-30 minutes past Volcano National Park and Kona just over an hour in the opposite direction from Lanikai. There are a few other not too far away beaches and tide pools, however a couple require a 4-wheel drive vehicle which we did not have. Do not take Road to the Sea (80 mile marker off of Hghwy 11) if you do not have a 4-wheel vehicle (even though the guidebook merely "recommends" one). Our family found a delightful mix of relaxation and adventure on the Big Island, and our stay at Lanikai was certainly a pleasant one.
Owner Response: Kat, we are so glad you had a good time at the house and in the area! It was a pleasure helping to make your time on the Island pleasant and memorable. Thanks so much for your patronage and kind review!

December 25th, 2010
Great Place to Stay!
Bob, the owner, is great to work with. Knows all about the area and can make recommendations and answer all your questions about the best spots to visit. House is spacious and well stocked. We like to cook so appreciated the great set of knives and extra sets of dishes in the kitchen. Also liked the coffee maker big enough for a group of 8 adults. Plenty of space for dining in or out on the deck. Also took advantage of the BBQ. Loved the deck, pool, and hot tub. House was so comfortable we hated to leave but felt since we were in Hawaii we needed to hit the beaches. Lots of privacy. Nothing but silence except for the birds singing. Great sunset and sunrise. And the stargazing from the pool deck at night can't be beat. House could have easily slept 8 if we used the office as a bedroom but ended up also renting the downstairs apartment to ensure total privacy. The price was quite reasonable. Highly recommend the place!
Owner Response: It is so nice to hear back from happy renters! We have worked hard to make our place a true "home away from home" and are truly gratified when we succeed!!
Add a Review