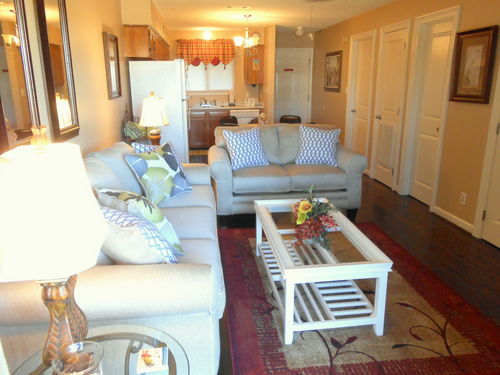 2 Bedrooms, 2 Bathrooms, Capacity: 6
Feb 22 - Mar 8 $595 a Week Sat to Sat

Mar 8 - Apr 19 $675 a Week Sat to Sat

Apr 19 - May 24 $675 a Week Sat to Sat

May 24 - June 7 $775 a Week Sat to Sat

June 7 - Aug 8 $925 a Week Sat to Sat

Aug 9 - Sept 6 $650 a Week Sat to Sat

Sept 6 - Oct 18 $550 a Week Sat to Sat

Oct 18 - Feb 26 $450 a Week Sat to Sat

11% Tax $150 Deposit $75 Cleaning

Photo Gallery

Property Description
Bedrooms: 2. Bathrooms: 2


We are vacationers just like you. When we are looking for a place to stay we start looking for a place that offers a lot for the money. We next want to know that where we stay will be super clean. Next we look to see what others have said about their stay through the guest reviews. We have made our condo just the way we like it to be on vacation. Since it will be your home-away-from-home for your stay we want you to be comfortable and feel like you are at home. Gulf Shores is such a great place to come for your vacation and our condo will mix fun, value, convenience and comfort for you. If you are like us you want to be able to save enough money for a vacation that the accommodations won't use all of it. Our condo's rates will allow you to have more money left over for shopping, eating out a lot, go to amusement places and other places for entertainment. Our condo is in unique place. We are in the heart of Gulf Shores but we have the ocean on one side and the beautiful back bay/lagoon behind us. We really like the contrast of the two. Our beaches are blindingly bright white and the water just sparkles. The back bay's water is peaceful and tranquil. We love sitting out on our balcony at any time of day or night and just enjoying the sounds and sights. Nothing like a good cup of coffee and a new book while out on the balcony. If you like to shop you will have plenty of opportunities. In Foley, which is 6 miles north of Gulf Shores, there is the Tanger Outlet with 150 stores to choose from. Yikes. All of the chain restaurants are in Foley too. Gulf Shores has all the local flavored restaurants like Lulu's, Ba
Photos
Owner Contact Information
Private Owner
Randy
Meadow Run Drive
Mobile, AL 36619
Phone:
Website:
N/A
Member Since:
May. 9th, 2007
Other Listings:
View here
Contact the Owner
Rental Rates
Feb 22 - Mar 8 $595 a Week Sat to Sat
Mar 8 - Apr 19 $675 a Week Sat to Sat
Apr 19 - May 24 $675 a Week Sat to Sat
May 24 - June 7 $775 a Week Sat to Sat
June 7 - Aug 8 $925 a Week Sat to Sat
Aug 9 - Sept 6 $650 a Week Sat to Sat
Sept 6 - Oct 18 $550 a Week Sat to Sat
Oct 18 - Feb 26 $450 a Week Sat to Sat
11% Tax $150 Deposit $75 Cleaning
Amenities
Air Conditioning
, WiFi Internet
, Cable TV - HDTV
, Parking for 2 Cars
, 2 Swimming Pools
, BBQ
2 Bedrooms, 2 Bathrooms, Capacity: 6
Beds: 1 King, 1 Queen, 1 Queen Sleeper Sofa
Minimum Stay: 3 Nights after Summer


Ocean View
Further Information
Nearby Attractions: - Air Conditioning Covered Parking for 2 vehicles under condo Sleeper Sofa & Loveseat Full Kitchen w/ stove, dishwasher, refrigerator, microwave, all utensils, dishware Wireless Internet in condo Linens & Bath Towels provided Cable TV in master bedroom and living room
Reviews
Average Rank 5 Stars from 8 Renter Reviews

May 20th, 2011
Las Palmas is a wonderful place to stay!!
This was our first stay in Gulf Shores, AL. Not only were we blessed with great weather, but also a very pleasant place to stay! The condo is beautifully decorated and has a very homey feel. Everything you need to prepare meals is there. The beds are very comfortable. Plenty of towels. The description of this condo is extremely accurate. It is clean and well maintained. Everything about the condo was as promised. The quality of the accommodations was superior in every way! The location is great. The beach is a very short walk across the street. The Gulf Shores Pier is a few miles down the road. The owner is extremely attentive and helpful. He made the rental process simple and easy! There are many good places to eat. Our first night, we visited the West Beach Grille. In the same shopping area there is a fish market..Beaudros I think. They will cook your fish and you just bring the meal home! This condo is highly recommended!

April 30th, 2011
Fantastic trip for my mother
I took my mother down for an early Mother's Day trip and the condo was perfect. From the process of renting, all the way to the convenience of location, I couldn't have asked for anything better. The condo was clean, had beautiful furnishings, and was obviously well taken care of. It was in a great location with easy access to the beach and other attractions. Great restaurants were within minutes. This was by far the easiest vacation I have ever planned. My mother had a wonderful time and has decided we should make our trip an annual event- the highest compliment!

March 19th, 2011
Great Condo
We rented this unit for a week of golf, and it could not have worked out better. The unit was every bit as nice as listed in the description and the other reviews. Very clean, quiet, and most of all convenient. Location, location, location. The owner was great to deal with throughout the process, and returned the deposit immediately. Definitely would rent this unit again when we return to Gulf Shores.

August 13th, 2011
Gulf Shores AL
We were pleasantly surprised when we arrived at the condo. The condo was very clean. Everything from the furniture to the floors were exceptional. The location of the condo is literally right across the street from access to the beach. It was nice to have everything we needed right at our hands in the condo and the surrounding area. We loved being able to walk across to watch the sunset and sunrise. We definitely could become beach bums. We felt very safe there and no problems with anyone during our stay. This was our first family vacation and it was a blessing beyond measure! We plan on making the gulf shores and our stay at this condo a yearly event. What a great family tradition and a great place to stay. We can't wait to create more family memories at this lovely condo. The price is well worth the stay in so many ways. Thanks for allowing us the opportunity to stay here and for keeping it so clean and nice! Be blessed! See ya next year! The Karl's

July 9th, 2011
Gulf Shores Vacation
My husband and I stayed in this condo for our vacation last week and it was lovely. It is decorated very tastefully and was very clean and cozy. Randy was very easy to work with when we were booking out reservation and was always willing to answer questions promptly. One night, we had an issue with the air conditioning, and Randy promptly called the AC service first thing in the morning for us and it was fixed within the hour. We very much appreciated his attention! The condo is stocked with lots of plates, silverware, cookware, towels, and just about everything else that you would need to enjoy your vacation comfortably. The area that the condo is located in is a hub of activity as there are lots of shops and restaurants just down the street, and this made it easy to get everywhere on foot. Our favorite things to do were enjoying the beach, sea kayaking with BeachnRiver Kayaks, grilling out at the state park (just about a mile down the road to the left of the condo), visiting Fort Morgan, and going to the Shrimp Basket and Shipps Island Thyme at Zeke's Marina for dinner.

June 18th, 2011
http://www.vrbo.com/130049
It was our first time visiting Gulf Shores, we had a FANTASTIC experience. Randy and Lisa made it FIRST CLASS. The Condo was great, clean, well kept, across street from the beach, close to the Hang Out and several restaurants near by. Randy and Lisa took care of every detail to make sure from the arrival to departure we had an wonderfull experience. My 6 year old son felt like home, he already made vacation plans for next year at Randy's condo. Thank you Randy Lisa, you guys made this vacation very SPECIAL to my family.

April 16th, 2011
http://www.vrbo.com/130049
My wife and I had the pleasure of staying at This Condo April 16, 2011 through April 23, 2011. We found the stay very enjoyable with easy access to the beach and centrally located close to a multitude of eating establishments. We especially appreciated the balcony and spent may hours sitting outside enjoying the warm Spring evenings watching as our fellow tourist passed by. The inner dwellings of the condo were clean, organized, and comfortable. My Wife and I are already making plans to visit the Gulf Shores area again next year; and we will surely use Gentle Winds on our visit.

August 13th, 2011
Absolutely PERFECT family vacation!!!
We cannot say enough about our first-time trip to Gulf Shores and staying at Las Palmas. The condo was absolutely the cutest, cleanest, and most comfortable place that we could have picked to stay for an entire week. Randy worked with us one-on-one and was quick to reply on every question and situation that we asked about. We were amazed at the accomodations of the condo and all of the little things available for us to utilize on our visit. The kitchen was fully stocked with any and every kind of utensil and container necessary for a VERY relaxed and easy stay. We were able to really save a lot of money by having the conveniences of home at the condo. THE BEDS WERE AMAZING! :) The master bed was soooo comfy and cozy, perfect for an exhausting day of swimming, crab hunting, and site seeing. Our favorite restaurant, hands down, was the "Original Oyster House." They have a wonderful salad bar and the food was wonderful. Service was very friendly and it was so reasonable. I know i am running things together here, but just wanted to share what all we were able to do in a week. (1)The Little Zoo That Could"- we did the Tiger Encounters and Lemur Encounters. What can I say, except I got to kiss a little white adorable Bangle Tiger and my little 6 yr old daughter got some "Lemur Love" and was groomed for about 3 minutes.lol (2)Went to see the Blue Angels and Naval Museum in Pensacola-AWESOME and breathtaking. (3)Deep Sea Fishing 35 miles out in the ocean-was amazing and so much fun! We all caught so much fish. Our boat caught over 250 fish. (4)Fort Pickens in Pensacola-breathtaking stretch of beach, gave new meaning to us of the crayon color, "Sea Foam Green." We swam there at Lagoon Beach where it was crystal clear. Manna Rays graced us with their graceful presence-thrilling. (5)Professional family pictures at Gulf Shores Beach at sunrise. (6)Parasailing and Banana Boat rides-so much fun our cheeks still hurt from laughing!!! (7) Finally, Tanger Outlet and Lamberts in Foley- great place for back-to-school clothes (so much cheaper) and lots of laughs at Lamberts. We did so much and had such a wonderful time on all of the beaches there. The condo was PERFECT to location, comfort, affordability, and giving us the ability to enjoy all that we did. Thank you soooo much Randy and Lisa!
Add a Review