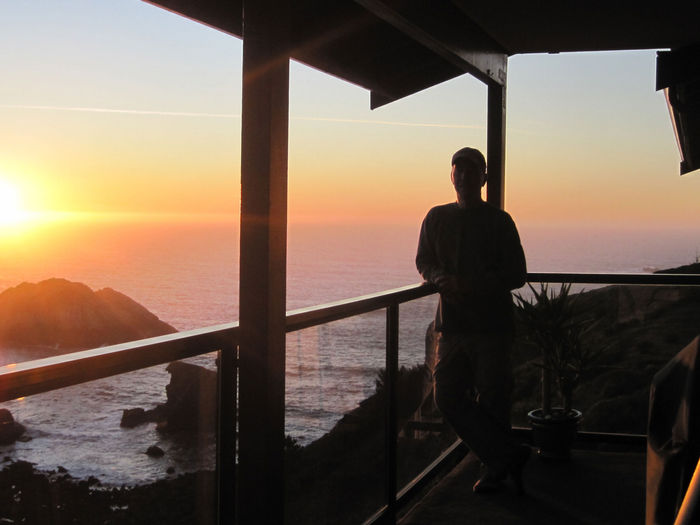 Owner's Calendar
2 Bedrooms, 2 Bathrooms, Capacity: 4
Owner Contact Information
Private Owner
Steve
LWW
Penn Valley, CA 95946
Phone:
Website:
Click here
Member Since:
Aug. 31st, 2010
Other Listings:
Rental Rates
2 Bedrooms, 2 Bathrooms, Capacity: 4
Contact owner for rates
No longer renting short-term
Property Description
Bedrooms: 2. Bathrooms: 2


Note to all: The calendar is blocked out because we are suspending "Short-Term Rentals" at The Breakers. Though we have rented short-term for 12 years, Curry County has just imposed requirements we are unwilling to meet. Those include a complicated and expensive process to obtain a "Land-use Permit". The cost alone is $2000. The permit is not needed for rentals of over 30 consecutive nights. If you have rented The Breakers before and would like to talk about what this change leaves us as options, please give us a call. Steve and Lauren As you approach this condo along Highway 101, you are struck by the spectacular beauty of the Oregon Coast. After the short flights of stairs to this top floor condo, you open the front door and find yourself faced with an incredible view of beach, sea stacks, small islands and ocean. This luxury oceanfront condo is a perfect getaway destination for couples who enjoy hiking, nature, and for those who just want to relax with one of the best ocean views imaginable. Enjoy the sounds of the crashing waves of the Pacific Ocean, view wildlife (whales, osprey, seals, etc.) right from the living room or watch the fishing boats and surfers. The Breakers is equipped with binoculars for viewing from the living room and balcony overlooking the ocean. For those who just want to relax, The Breakers can comfortably accommodate four adults in two nicely appointed bedrooms (a queen bed in each room) and two full bathrooms (all linens provided). You'll find many features for your comfort and enjoyment: spacious living and dining area with seating that encourages relaxing, a gas fireplace, a well-supplied kitchen, Smart TV with streaming service, high speed internet and Wi-Fi, a selection of DVDs, books, a balcony with gas BBQ, private garage, and more! If you want a little more activity, take the short hike down the private trail to the secluded beach and tide pools. Low tides provide the opportunity to visit the natural cave at the beach below and longer beach walks. Hike to the north along 26 miles of coastal trails in Samuel Boardman State Park. The trailhead to the park starts right at the parking lot. Go out to dinner in one of the many restaurants in Brookings, or travel south to seaside dining across the border in CA (30 minutes) or north to Gold Beach (30 minutes.) For those who want even more activity, visit other local beaches or take the short drive to hike in the California redwood forests. With a garage availab
Photos
Amenities
Broadband WiFi
, Toaster/coffee maker
, Binoculars provided
, Gated facility
, Microwave
, Gas Fireplace
, Charter Cable; DVD
, Walk-in closet
, Gas BBQ Grill
, Balcony
, Private beach trail
, Ocean view
, Garage
, Washer/Dryer
2 Bedrooms, 2 Bathrooms, Capacity: 4
Beds: 2 Queens
Minimum Stay: Call Owner


Beachfront, Water View
Further Information
Restrictions: - Quiet senior complex - not suited for partying. See house rules above.
Nearby Attractions: - Golf Shopping Sightseeing Restaurants Rafting Kayaking Boating Shelling Swimming Snorkeling/Diving Surfing Windsurfing Biking Mountain Biking Wildlife Viewing Hiking Fishing Rock Climbing Antiquing Cinemas/Movie Theaters Live Theatre Museums Horseback Riding Samuel Boardman State Park trailhead is at edge of property, the south end of a 26 mile coastal trail.
Reviews
Average Rank 5 Stars from 38 Renter Reviews

September 12th, 2010
Beautiful accomodations!
My husband and I stayed at Rainbow Rock in September, on our way back to California after dropping our son off at University of Oregon. We had a lovely wander along the Oregon coastline and arrived to a sunny afternoon in Brookings. Our only mistake was to think that the next two days would be sunny, as well! The weather kept us mostly indoors, but we did some climbing and tidepooling on that first afternoon. Indoors wasn't at all a bad place to be, as we found a warm and lovely setting, with lots of cozy throws, a nicely arranged kitchen, and good lighting for catching up on our reading. We had learned that the place had only recently been purchased by the owners, so were surprised at how pleasantly decorated it was, with many thoughtful extra touches. We bought groceries and stayed in, but hope to return at a later time.
Owner Response: Thank you!

Beautiful accomodations!
Patsy Modesto, CA My husband and I stayed at Rainbow Rock in September, on our way back to California after dropping our son off at University of Oregon. We had a lovely wander along the Oregon coastline and arrived to a sunny afternoon in Brookings. Our only mistake was to think that the next two days would be sunny, as well! The weather kept us mostly indoors, but we did some climbing and tidepooling on that first afternoon. Indoors wasn't at all a bad place to be, as we found a warm and lovely setting, with lots of cozy throws, a nicely arranged kitchen, and good lighting for catching up on our reading. We had learned that the place had only recently been purchased by the owners, so were surprised at how pleasantly decorated it was, with many thoughtful extra touches. We bought groceries and stayed in, but hope to return at a later time.

The Breakers
John Marysville, CA We have stayed at "The Breakers" twice, over Thanksgiving and at the end of last summer. Both stays were wonderful. The views from the balcony are better than advertised, and the condo itself is spotless, spacious, and tastefully decorated. The condo is fully stocked with towels, linens, etc. Nothing is overlooked. We actually cooked a full Thanksgiving dinner in the kitchen, and while we had to get inventive once or twice, the cookware and utensils provided by the owners were up to the task. Our 12 year old daughter and I took extensive hikes along the coast both north and south of the property, and enjoyed them immensely. Better views were enjoyed while walking from the condo than during our driving tour of the coast. We will be returning many times.

An Excellent Value
Keith and Judy Sacramento, CA This property is lovely. The condo itself is much larger than it looks in the photos; it is comfortable, clean, and extremely well appointed. The view from the deck is fabulous. The bed and bath we used were wonderful; the bed was comfortable and we loved the towels. It was easy to get places from the condo, both north to other coastal cities and state parks, and just a few minutes to the south to Brookings. We had a great time at a restaurant/bar just at the California border - happy hour and live jazz. Love the coastal trail for walks. And the condo's own beach is nice too. We'll definitely be back and have already recommended it to friends.

Rich Near Sacramento A splendid place to relax, and gaze at the ocean. Beautiful sunsets...we were fortunate to have mostly sunny days. A fine walk to the beach...we 60-somethings easily negotiated the sometimes steep trail. Check the tide tables thoroughly and head down to the beach at or just before low tide. Beachcoming is most fruitful around here. The condo itself is bright and airy with a kitchen more than suitable for several excellent meals. Get comfortable in one of the chairs near the window and feast your eyes on the scenery. We look forward to coming back.

Beauty and Peace on the Oregon Coast
Bigwater Penn Valley, CA Everything was perfect. The condo more than lives up to its description and photos. The ocean and sky are dramatic adjuncts to the spacious, tastefully decorated and comfortable interior. The sheltered balcony is ideal to enjoy early morning coffee, later afternoon drinks, a book, or simply contemplate life. The Breakers is situated on one of the most scenic parts of the Oregon coast. We were fortunate that exceptionally low tides let us explore the beaches and many tide pools all along the coast. The cave which tunnels through the giant rock just below the condo is fun and a great photo op. In fact, the whole beach begs to be photographed. So also do the many orange and purple star fish and tiny crabs. Trails abound to explore the spectacular coast higher above the ocean. The trail-head for one of them is right in the Breakers itself. These trails wind through lush forests and onto highlands with vast views of coast and sky. The variety of plants, flowers, trees, stone formations is unmatched in our experience. One such highland is carpeted with wild strawberries and irises. We will return and recommend the same to friends!

Fabulous Views!!
Koko Walnut Creek, CA If you're looking for a convenient and relaxing condo while in Brookings, this is it! The rental is clean, comfortable, and has breathtaking views! We enjoyed sitting on the private balcony and watching the sunsets.

Incredible Stay~Spectacular View
Star Klamath Falls, OR We had an amazing time when we stayed at The Breakers! The view was breathtaking and majestic. The Breakers condo was immaculate and had everything that you could need while on vacation. The neighbors were very pleasant and nice. The trail to the ocean was beautiful. Although a little steep at times, it was well worth the walk. We had a great time taking the hiking trail at the entrance of the condos. It was very well maintained. All I can say is that we had a spectacular time and we can't wait to be able to come and stay again at The Breakers. Thank you so much to the Kleins for allowing us to stay at your home!! I wish we were still there :-)

Relax on the Oregon coast
R&R NV This property is in a great location high on the cliffs just north of Brookings. The view of the ocean, rocks and beaches is spectacular! The location is quiet and peaceful but only a few minutes away from shops, restaurant and the harbor. The owners have obviously gone to a great deal of trouble to make the unit feel warm, inviting and comfortable. The kitchen is well equipped, there's an excellent Weber grill on the balcony, the beds are comfortable and there are plenty of spare towels and linens etc. We highly recommend this unit!

AM
Alyssiabrw Utah It was even more beautiful then the pictures! The beach is beautiful! The owner's are so nice and helpful. We will stay again!

Exceptional Experience
Vacation Girl Coon Rapids, MN We stayed at the Breakers at Rainbow Rock for 12 nights and enjoyed an exceptional experience. The Breakers is located just outside of the town of Brookings, OR on a cliff above the Pacific. The unit was very clean and was well stocked with everything we needed for a comfortable stay. A pathway from the complex lead to the beach. Although this path was difficult in spots, after reaching the beach the trek was well worthwhile. Many state parks are close by for exploring and viewing the scenic Oregon coast. Steve, the owner, was very responsive to our questions and checked in to ensure that there we no problems with the unit.

Amazing!
CC - ChandlerArizona Absolutely wonderful! We loved the condo and we loved the scenery and the hikes and ocean. We are already wanting to go back and didn't want to leave! Thank you so much for allowing us to stay at your place, the view is so amazing that it cannot be put into words! We would like to go again next year the same time since the salmon start their run and we really wished we would have gotten a day of fishing in. The condo had absolutely everything we needed and was very comfortable - very nicely furnished! We did the 52 mile/104 round boat trip upriver on the Rogue River which was amazing! We saw bear, deer, bald eagles, would definitely do it again (Jerry's out of Gold Beach only 30 miles away). Walked the Loeb Park trails on the Chetco, that was amazing! The Jedediah Smith/Walker Road outside of Crescent City is a must -- there is a hiking trail of absolutely beautiful redwoods! The location of the condo was perfect. Thank you so much!

Spectacular View!
Chris Texas Within 2 minutes of walking through the door my fiancé said "we have to come back here". The views are absolutely amazing! The condo was very clean and even better looking than the pictures. We were amazed at how well the entire property was kept up, better than most high end hotels. We spent two nights of a weeklong vacation at this condo but after the first night we wished we had booked it for longer. The owner was a pleasure to work with. Great communication and everything was exactly as promised. I could not recommend a property more than this one.

PERFECT Holiday at Rainbow Rock
Wendy M. Klamath Falls, Oregon We were fortunate to find this rental available for our Thanksgiving holiday and spent five glorious nights there! The pictures do not do it justice - the condo is beautiful, and the view is positively breathtaking. The unit is located far from the highway so you have no highway noise, but only the wonderful sounds of the waves crashing on the rocks below. The unit has a sea decor which is very charming, and soothing. The kitchen is well equipped - we prepared our Thanksgiving dinner and ate it with an incomparable view of the ocean. Turkey? Heck no - we had seafood! The town of Brookings is only about three miles from the condos, so we went in to town for some of our other meals. It is a charming little town with lots of cute shops and restaurants. We recommend "Art Alley Grille" for lunch - try the Ahi Tuna Salade Nicoise! And do not fail to admire the watercolor placemats with the delightful narrative on the back - I had to buy four of them to take home. We found "The Nautical Inn" at the California border for fine seafood - in fact, ate there twice because it was so good. Our days were busy - hiking the coastal trails (a favorite was the Redwood Trail that is 9 miles up the Chetco River, beyond Alfred Loeb park - STUNNING!), poking in coastal shops and galleries, browsing in the antique mall in Brookings, and of course - long walks on the beach. The trail down to the beach from the condo is grassy and steep in some places, but not scary, and very manageable for us two old retired, out-of-shape seniors. Once down there, the tide pools at low tide were interesting to explore - lots of sea anemones and starfish (don't disturb the little fellers!) and Rainbow Rock is beautiful - bring your camera! We had such a wonderful vacation with our daughter and son-in-law who accompanied us. We DEFINITELY will come back. A word about the owners - Steve and Lauren: they aren't just landlords, they are friends - at least, you feel like that after a few emails. In all our VRBO rentals over the years, we have not experienced people so friendly and accomodating. My emails were answered promptly, politely, and efficiently. I asked about everythng from restaurant choices to cooking utensils to tsunami warnings, and Steve and Lauren were informative and helpful. We fell in love with the Breakers at Rainbow Rock, and Steve and Lauren Klein - we'll be back, as soon as we can! Wendy and Bob - Keno, Oregon

Relaxing with a Million Dollar View
Maureen R. New Hampshire The condo was exactly as described, but there is no way to describe the wonderful view from the deck! We were fortunate to enjoy sunny and warm weather (for December, e.g., in the 50's and 60's). It was our first trip to the southern coast of Oregon and we spent the week discovering the area. It was a great time to be in Brookings -- quiet, little traffic, and peaceful. The condo was comfortable, clean, and inviting. We enjoyed using the gas fireplace, which added ambiance to our evenings. It was one of the best vacations we've taken.

Everything we hoped for.
skyhawk 172 Roseburg, Oregon My wife and I had a wonderful experience the last week end of 2011 at the Breakers at Rainbow Rock near Brookings. The condo was so warm and comfortable, the scene out the window was never ending. The weather gave us a thrill from stormy to calm. The final treat was sighting whales feeding on their way south on our last day. It was perfect in all respects. Stayed: December 2011 Submitted: January 4, 2012

Brainerd MN
Brainerd MN Brainerd MN Just rent this condo. You will be glad you did. We stayed for a week. The condo complex is in a nice quiet location. The ocean view out the windows and off the balcony is amazingly beautiful and you can hear the waves. Coming from Minnesota, I learned from my last trip out to the Oregon coast that there is a big difference between ocean view and ocean front property and this place is ocean front. If you are coming to see the Oregon coast it is a huge bonus to be able to hear the ocean waves at the place you rent. The condo is very clean and well cared for. The furnishings and décor are tastefully done and the living room couches and chairs are so comfortable as are the beds. The kitchen has everything you will need and the dishes, pans, utensils, etc. are all in excellent shape. The beach below has some beautiful rocks and driftwood and you will enjoy the long walks on the beach at low tide, viewing the starfish and sea anemones in the tide pools. The Samuel H Boardman state park next door has some beautiful beaches and a lot of hiking, as well, and you can access a park trail right from the condo parking lot. We recommend the Art Gallery Grille restaurant in town for high quality food. Not too far away from Brooking is some of the best redwood tree viewing in California in the Jedediah Smith Redwoods State Park by Crescent City. Between Crescent City and Eureka is Prairie Creek Redwoods State Park. The south end of that park is home to a herd of Roosevelt Elk. Stay as long as you can at this condo. You will be happy that you did. The condo owners, Steve and Lauren, are great to work with. We will be back.

Mrs. W
Mrs. W Salt Lake City, Utah My husband and I have stayed here twice. It was everything we could have hoped for. It was clean, well-maintained and has a beautiful view. We can't wait to go back again! The owner is easy to work with and does what he says he wil do. I would recommend this property to adults who want a lovely place to stay in Brookings.

Clean, Quiet, and BEAUTIFUL
AGFru Yuba City, CA Condo amenities - excellent Noise - very quiet comfort - excellent with very comfortable matresses Accessability - stairs to upper condo. Steps are low-rise and easy to navigate. Security - gated with access code necessary Location - near Brookings with easy access to restaurants and stores Brookings seems a very friendly and nice town to visit! attractions - ocean fishing, Boardman State Park trails and beaches adjacent with a trail started just North of the Condo complex. Also, a private beach below the complex with accessable trails by walking with the grade. Climate - varies with the seasons. We had 4 clear days and 3 overcast days out of a week's visit.

Brookings-lover
Lynda United States After attending a wedding in Oregon, we meandered down the coast, all the while looking forward to our stay at the Breakers. The photos and reviews were exciting, and our last minute help from the owners, Steve and Lauren, was exceptional. We love Brookings, and couldn't have found a more beautiful location. The amenities of the condo were perfect--even down to having coffee and binoculars available! Most of our time was spent on the deck, watching the sea life and fishing boats. My friend ventured down the trail to the beach, but I was recovering from a broken leg, so just relaxed on the deck while watching him make his way. He went at low tide so he could view the cave. The employees at the property were very friendly and helpful. We will most certainly return. Thank you Steve and Lauren for sharing your home with us.

Perfect stay
Ed J Victoria, BC, Canada The Breakers at Rainbow Rock was excellent. From the nicely stocked kitchen, to the magnificent view, everything proved to be a wonderful 2 weeks....perfect for 2 couples. Truly the best part was the owner's communication. We've stayed at many VRBOs before but Steve's communication and clear direction was outstanding. We strongly recommend this VRBO.

Soothe the Soul
Mo Eureka California Great digs!! Breathtaking views, great furniture, decorating, and kitchen. Quiet, but for the ocean sounds which to me was music to my ears. Lovely. Just lovely. The first chance I get I will be back.

Awesome View
turtledovet Redding, CA I've stayed at Rainbow Rock condo's in the past. But this unit is by far the cleanest and nicest of them all. Attention to detail is what you can expect. A wonderful place to relax and unwind, enjoy the view or go for a hike. Hope to be back soon!!!

A Wonderful Get Away
Diane Eagle Creek, Oregon The Breakers at Rainbow Rocks in Brookings, Oregon is the perfect get away! Two wonderful bedrooms and two full bathrooms, a fully stocked kitchen and what a view! The ocean is right outside through the sliding glass door and onto the private deck where every morning we watched the boats go out, every afternoon relaxed after our hike and enjoyed the view and sunshine, then each evening we watched the sun set. This was the perfect, relaxing and fun vacation. We walked on several beaches and hiked the Redwood trails and ate in the local restaurants. Our week went by too fast. We will definitely make reservations again in the future for this location.

Perfect getaway with amazing ocean views & hikes
MikeScotts Mills - Oregon The Breakers Condo was very comfy & quiet. A perfect distance from town & I felt very secure there alone. The walks were just wonderful as I discovered a part of Oregon I had never seen before. The Condo was very clean & well equipped, perfect views of the Ocean from inside & out on the deck. It helped that the weather was wonderful for March in Oregon. The owners were very friendly & helpful, with directions & instruction to the location. I thank them for sharing thier home with me. I will gladly return in the future. JP - Oregon

One of the Best
Eleni Nicolaus, CA The Breakers was one of the best places I have ever stayed! As an RCI member, I have rented or have exchanged for numerous condos throughout the United States and the world and am very comfortable saying that The Breakers more than matched the Gold Star units available through RCI. If you like the ocean, you will be ecstatic about the incredible views from the balcony, which is directly above the beach. If you like beaches, you will have a great time walking and exploring the beach below and other beaches in the area. If you're a golfer, you will find a superb 18-hole golf course nearby and a 9-hole within a short driving distance. I didn't go to the 9-hole, but the 18-hole was really pretty and I bought a gorgeous little vest there. We went to various restaurants in the area and I enjoyed all of them. One had incredible clam chowder! I don't remember the names of the restaurants, but there is a thorough guide of the area available in the condo. The condo itself was delightful. It is very tastefully decorated and has all the amenities for a comfortable stay. It is amazingly clean!! It is also thoroughly equipped with kitchen appliances, utensils, etc. Although we didn't do any cooking, I saw that there were plenty of spices and coffee and tea in the cupboard, condiments in the refrigerator, paper towels, storage bags, etc., etc. The owners are very accommodating. It is so obvious that they take a great deal of pride in The Breakers and that they see it as a second home. I hope to return soon--this time with my husband.

Beautiful condo, nice owners
1219 pacific northwest Stayed at this beautiful condo with a visitor from Europe. Visitor has traveled extensively throughout the world and absolutely loved this location and the Oregon coast. The views are beautiful from the deck and the condo is very comfortable, quiet, spacious and clean. The owners are also very responsive and genuinely care that you are having a good time in their home. Thank you for making our guest's visit special.

Go ahead, rent it now!
Megan Olathe, KS This is a fantastic rental. It's the third VRBO I've stayed in, and it is by far my favorite. The owners are responsive, helpful, and easy to work with. The unit itself is exceptionally clean and well-organized. The furniture is comfortable but not cluttered; the kitchen is well-stocked with cookware and dishes, but the fridge and pantry will be empty and waiting for any snacks you may have; the decor is homey and charming without being overdone. In short, it is very easy to make yourself at home. It's even prettier than the pictures, and as for the view...wow, just wow! We spent hours on the balcony or sitting inside, and whether you're watching the tide come in, go out, or the fog roll in, it's time well spent. The unit is on the top floor, but it's only a flight and a half stairs from the parking lot. (The first floor is down a half flight of stairs from the parking lot.) We were traveling with our two-year-old, and even he had no problem with the climb. A more rugged journey is getting from the condos to the beach: the trail is quite steep and -- at the end -- goes over loose rocks and driftwood. Take it easy and hold onto the ropes that are provided, and you'll be fine. We spent a lot of time playing on the beach. During our 5 days there, we only saw other people on the beach twice. It's like we had the whole place to ourselves! The town of Brookings is small, but there are plenty of good restaurants (we recommend Vista Pub, Pancho's, and Mattie's Pancake House in particular!) and a couple of gift shops for souvenirs. We had a wonderful, wonderful stay here. If we ever get a chance to return to Oregon, I'd rent the Breakers again without a second thought. You won't regret it!

Perfect Beach Vacation
Rebecca W. Yreka, CA This vacation rental definitely lives up to its claim of a fantastic beach view! I am sure this is one of the best on the Oregon coast. We felt very secluded and private and yet very close to stunning beaches and the coast trails. The place was very well decorated, furnished, and stocked with everything we needed and even things we never expected to find. Be sure and walk the coast trail that goes to Lone Beach, it begins at the pet walking area of the condos. Steve and Lauren were very organized and helpful. They kept in touch with us throughout the rental process by email. It seems as if they have put together a pretty perfect vacation experience for those who want to enjoy the beach.

Brookings
Pascoe Denbigh We have visited Brookings in the past and find it to be an extremely restful and serene,the acommodation we had at rainbow rock was first rate with magnificent views over the ocean,Brookings itself has an abundance of excellent restaurants and bars and the welcome received is always warm and geniune,we cannot recommend it enough

Best view ever!
karpies St.Paul, MN My boyfriend and I took a trip down the West coast and stayed at The Breakers condo for two nights in Mid-November. It was just amazing! We arrived at night and heard the big waves crashing on the beach and in the morning got to see the amazing view. It was so relaxing and the trails down to the beach were fun to hike. The town was fabulous and it was one of the best vacations ever!

Peaceful, relaxing,and great ocean views!
Larry and Carol Klamath Falls, OR "The Breakers" is a fabulous place with beautiful ocean views. We found the condo to be very comfortable, clean, and an incredibly well stocked kitchen. We felt very much at home. The owner, Steve, was extremely helpful in making sure our visit would be a great experience. We would highly recommend this condo to anyone looking for a quiet oceanfront stay in the Brookings area. We are looking forward to a return visit.

Funtimes
funtimes Great view, great cooking opportunities, quiet, amazing well-groomed path to beach. The owners are very attentive and the condo was very clean. Will go back again especially when the tide is low.

A piece of serenity!
Nik Chicago, IL There aren't enough words to describe how wonderful our stay was. Steve and Lauren were so helpful and accommodating, above and beyond the norm. It was a calm, safe, peaceful retreat for my girlfriend and I. We watched whales from the balcony almost on a daily basis, the hiking and wildlife is amazing! Thanks again for making it such a wonderful stay!

Fabulous! Definitely home away from home!
Donna C. What an amazing experience. I have rented homes for over 15 years in various places and have never had a home so totally equipped with everything you could ever want in a kitchen! Staying here was just like staying in my own home! Thank you so much for sharing! I will be back!

Exceptional in every way!
Lonnee H. If you are considering a stay on the Oregon Coast this is the place for you. We have rented from vrbo many times and this condo immediately became one of our favorites. Steve and Lauren have seen to every detail to make your stay perfect. The communication prior to our arrival was better than any we have ever experienced and very much appreciated. For those who are not familiar with this area it is known as the "banana belt" of the Oregon Coast, so you can expect many beautiful days spring through fall. As for us we will return in winter to experience a coastal storm from the vantage point offered at The Breakers! Thank you Steve and Lauren for allowing others to enjoy your home at Rainbown Rock!! The condo opens to a wide entry flooded with light from the skylight and you are immediately drawn to the views of the Pacific Ocean! We are native Oregonians and have stayed up and down the Oregon coast and this is one of the best views on the Oregon coastline! The beach below the condo is incredible from tide pools to explore, a long stretch of beach to walk and the beautiful "rainbow" caves to enjoy. The condo is impeccably clean and the kitchen has everything you will need to prepare meals.The furniture is nice and comfy for sitting before the fire or enjoying the view. This gated condo complex is very well maintained and quiet making for a relaxing stay.

Spectacular in Every Way!
Marcia Bakersfield, CA This condo unit will not disappoint in any way! It is immaculate, fresh, beautifully appointed and completely equipped. It is in a lovely gated area and is very quiet (excepting the lulling sound of ocean waves, of course). The unit has a garage. The view is just magnificent. We so enjoyed BBQing while sipping our wine on the deck that we cancelled our dinner reservations and ate in each evening. Wonderful POI's and vista turnouts between the condo and Gold Beach--don't miss them! Beautiful hiking trails, a private beach. The owner was a delight to work with. We hope to be back one day!

Morning views of whales
Amy Ashland, OR Without a doubt your place is the cleanest, most organized and inviting as well as best stocked. We hope to return soon. Thank you for sharing this special place with us.
Add a Review