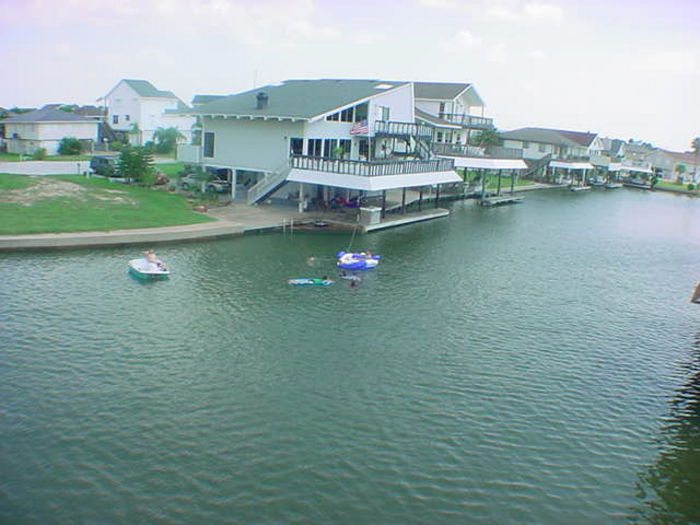 Owner's Calendar
4 Bedrooms, 2 Bathrooms, Capacity: 14
Owner Contact Information
Tiki Island Palms
Owner
1323 Hawaii Dr.
Tiki Island (Galveston) Texas, 77554
Phone:
Website:
N/A
Member Since:
Feb. 8th, 2004
Other Listings:
Rental Rates
4 Bedrooms, 2 Bathrooms, Capacity: 14
Rates are also posted in Property Discription
Save Money--Dealing Direct with the Owners
Check - in 3 to 5 pm. Check - out by 11am.
Rates for up to 10 persons.
Holidays & special events 10% extra.
3 Nights Minimum.
Property Description
Bedrooms: 4. Bathrooms: 2


THE BEST VACATION HOME RENTAL IN GALVESTON, BAR NONE. If you would like to do some serious fishing or just have fun with the kids on a vacation you won't soon forget this is the place. Nothing else even comes close. *********************************************************** HANDICAP ACCESSIBLE: Ground floor 1 bedroom apartment completely furnished with queen size bed and full size futon that doubles as a couch; Optional and available ONLY to over-sized groups at additional cost. We can sleep 18-22 with the apartment. ************************************************************ A FISHERMAN'S DREAM HOUSE on prestigious TIKI ISLAND. 1 mile from Galveston and all the sights. Near best beach. PERFECT FOR LARGE FAMILY REUNIONS. ****ALL MAJOR CREDIT CARDS ACCEPTED--email for details.**** THREE NIGHT MINIMUM. Email for availability for all of 2011. CHECK THIS OUT!!! HOW MANY RENTALS WILL YOU FIND WITH ALL THIS INCLUDED AT NO EXTRA CHARGE' PANASONIC 54-INCH LCD PLASMA HIGH DEFINITION WALL MOUNTED TV CABLE PACKAGE WITH DVR + 3 OTHER TV'S, DVD, VCR.
No prom groups, school or graduation groups, fraternities or sororities, or youth groups with or without adult supervision. 3 NIGHT MINIMUM ****ALL MAJOR CREDIT CARDS ACCEPTED--email for details.**** JANUARY 4th. - FEBRUARY 26th. $1198.00 1 week Sunday - Sunday. OR $998.00 For 3 nights Friday - Sunday OR $998.00 For 4 nights Monday - Thursday FEBRUARY 27th. - MAY 21st. $1498. 7 nights. OR $1198.00 For 3 nights Friday - Sunday OR $1198.00 For 4 nights Monday - Thursday
MAY 22nd. - June 4th $2098. 7 nights. OR $1698.00 For 3 nights Friday - Sunday OR $1698.00 For 4 nights Monday - Thursday
June 5th. - August 20th. $2798.00 1 week Sunday-Sunday. One week Minimum.
August 21st. - September 10th. $2598. 1 week Sunday - Sunday. OR $1998.00 For 3 nights Friday - Sunday OR $1998.00 For 4 nights Monday - Thursday September 11th. - November 5, $1998.00 Week
Photos
Amenities
Air Conditioning
, Refrigerator
, Microwave
, Dishwasher
, Stove W /L Ovens
, Filtered Water/Ice
, Washer/ Dryer
, Ceiling Fan(s)
, Coffee Maker
, Gas Grill/BBQ
, Linens Provided
, Ironing Board
, Cable TV
4 Bedrooms, 2 Bathrooms, Capacity: 14
Beds: 1 king 3 Queens 2 Twins 2 Sets Bunkbeds
Minimum Stay: 3 Nights


Further Information
Must be 25 years of age to sign the Rental Agreement *
Restrictions: - No Smoking
Nearby Attractions: - OTHER ATTRACTIONS FOR THE FISHERMAN: There are numerous Guide Services that offer professional guides to take you out in their fishing boats and not only show you where the fish are but also how to catch them. There are many party boats that offer daily INEXPENSIVE BAY AND OFFSHORE FISHING TRIPS. And there are many DEEP SEA FISHING CHARTERS boats all just minutes form Tiki Island. Some say the best fishing is September to March. Tiki Island Palms is available all year. 3
Reviews
Average Rank 4 Stars from 15 Renter Reviews

June 4th, 2006
Had a wonderful time!!
John and Lynda Bruffett Murphy, Texas Review Submitted: June 8, 2006 Date of Stay: June 2006 Ourselves and friends - ten people total - had a wonderful time!! It didn't matter that it rained almost the whole time in Galveston...we had so much fun enjoying the views, cooking together, fishing right out back, paddle-boating, hunting for seashells, and visiting the beaches. The house was perfect with everything we needed. It slept our group comfortably with plenty of separate space for adults and kids. All the kids had a blast and we will definately book again with James and Pat. Thanks so much!!

April 2nd, 2006
WE LOVED THIS PLACE SO DID OUR KIDS.
DAN WALTERS
FORT WAYNE IN

Review Submitted: April 21, 2006 Date of Stay: April 2006

WE LOVED THIS PLACE SO DID OUR KIDS. IT IS SO LARGE AND FURNISHED SO WELL. PAT AND JAMES WENT OUT OF THERE WAY TO HELP.

FISHING TIP WE FOUND THAT THE SEA TROUT WOULD HIT FLYS AT NIGHT OVER THE BRIGHT UNDERWATER LIGHT LOTS OF ROOM, LOTS OF FUN WOULD RECOMEND

April 2nd, 2006
Pictures on the website don't do the home justice.
Peter Reyes
Waipahu, Hawaii

Date of Stay: April 2006

It was everything we expected and more. The house was very roomy and has everything you need to enjoy a relaxing vacation. The pictures on the website does not do the home justice. The location of the home is very convenient. The fact that it is so close to the freeway is a plus to go to either Houston or Galveston.
One of the reasons for choosing this home was for the fact that it is suppose to be a great place to fish and it definitely is. I knew that the fishing might not be as good in March as it would be during the summer but it was more than I expected. Everyone I talked to at the local bait and tackle told me that the fishing might not be that good because the water temperature was not ideal for fishing, but they don't know about your bright underwater light that attracts all the fish. We fished everynight we were there and caught fish everynight. We also caught fish during the day but we caught more at night. We caught at least 10 fish everynight and some nights we caught over 15.

Just seeing all the fish pass over the light was very exciting. My daughter was very excited at seeing all the fish. The last night there I must have stayed up all night just watching all the fish and at one point I must have seen over 20 fish at one time. We planned on fishing at a local pier but we had so much succes fishing at the back of your home that we decided not to go to the pier. We caught a variety of fish including several kinds of catfish, croaker, speckled trout and couple of others that I wasn't familiar with. We also managed to catch some blue crabs even thouhg the water was a little cold for catching them. We also enjoyed an otter that visited the area nightly. I thouhgt he might scare the fish away but the fish was still there even when he was around.

We hope to stay in your home again in the future. We plan to make it a yearly trip. We have stayed in many other vacation homes all around the country and your home definitely ranks among one of the best. This is the first time that we are considering staying in the same place more than once. My 10 year old daughter has already asked if we can come back again.

I also wanted to thank you both for taking the time to show us around your home when we first arrived. This made it easier to find our way around the house. And your directions to the nearby grocery stores was also very helpful. We definitely enjoyed our stay and hope to stay again soon.

Thanks, Peter Reyes and Family

May 10th, 2010
Wonderful property
If looking for a great property, great owners, great views, GREAT fishing..You MUST stay here!!! House is very well maintained and beautiful. When you walk in you feel like you own the place. James and his lovely wife make you feel so welcome and I can say nothing but wonderful things about the entire experience. The baitfish in the water are unbelievable above the under water lights..It's simply amazing!! Recommended for: Age 55+, Girls Getaway, Sightseeing, Families with Teenagers, People with Disabilities, Romantic Getaway

July 16th, 2010
Awesome for Kids and Adults
Jennifer Missouri City, TX Review Submitted: July 16, 2010 Date of Stay: July 2010 We were just at Tiki Palms and had a wonderful time. We had a large group of adults as well as five children ages infant to 8 years old. We brought a large raft and tied it to the dock, which created a little island for the kids. There was always someone in the water. We went to the beach as well, and experienced no oil. The beach was clean and refreshing. We also went to Schlitterbahn and did a great deal of fishing and had a wonderful crab boil. I would definately do it again, even this year if we could all get away. Lastly, I like the bay because you can fish and swim as much as you want and still go to the beach with ease when you want. Recommended for: Age 55+, Girls Getaway, Families with Teenagers, Families with Young Children
April 10th, 2010
Most Relaxing Vacation Ever!
Gigi Conroe Review Submitted: July 13, 2010 Date of Stay: April 2010 If you're looking for a relaxing vacation, look no further. This home is spacious, and beautifully maintained with a view to die for. Once you're here, you can take a 15 min car ride to enjoy all the activities on fabulous Galveston Island or just stay at the house and enjoy the fishing, swimming, paddle boating, movies, board games, books, sun bathing, BBQing, and the awesome sunset. There is something here for everyone. My favorite is reading a book on the sun deck with music in the back ground, a cold drink on the table beside me and friends below fishing all day. Trust me, four days of this just wasn't enough. And, don't worry about the warm weather months. The house as plenty of patio doors to open up which allow the most wonderful fresh breeze to flow in off the water. The homes on the canal are really something to see. We spent an entire evening paddle boating through the canals just admiring the beautiful homes and wishing one of them was ours to call home. We truly look forward to returning for another vacation soon. Recommended for: Age 55+, Pet-friendly, Girls Getaway, Tourists without a Car, Sightseeing, Families with Teenagers, People with Disabilities, Romantic Getaway

June 6th, 2010
Our week stay
Stacy Texas Review Submitted: July 8, 2010 Date of Stay: June 2010 My family and another family stayed at this home for a week and had a great time fishing, swimming and relaxing. The neighborhood is nice and it's quiet. I honestly felt like I had been on vacation for two weeks. The house is in good condition and it's clean. I would stay here again! Recommended for: Age 55+, Girls Getaway, Families with Teenagers, Families with Young Children, Romantic Getaway
June 20th, 2010
SHOFE FAM. GATHERING
SHOFE FAM. GATHERING Hillsbor, Kansas Review Submitted: June 26, 2010 Date of Stay: June 2010 ENJOYED OUR STAY AND HAD ALL KINDS OF ROOM FOR GRANDPARENTS--CHILDREN AND GRANDCHILDREN !! WAS EVERYTHING WE NEEDED AND MORE. REALLY ENJOYED ALL THE DECKS OUTSIDE. THE FURNITURE AND BEDS ARE SO COMFORTABLE--WE ARE 74 & 77 YEARS SO WAS HAPPY TO SEE THEIR ARE 2 NICE RECLINERS ALSO. FOUND YOU HAVE THE KITCHEN EQUIPED WITH EVERYTHING WE NEEDED FOR A BIG GROUP. I WANTED TO TAKE THE BATHROOMS HOME WITH ME HA !! THANKS FOR A GREAT TIME. OH THEIR IS PLENTY OF PARKING FOR ALL RIGHT AT THE HOUSE--WE WERE HAPPY TO SEE THAT Recommended for: Age 55+, Girls Getaway, Families with Teenagers, Families with Young Children, Romantic Getaway

March 7th, 2010
Spacious and Beautiful!
Gayle B. Michigan Review Submitted: April 14, 2010 Date of Stay: March 2010 We stayed in the house with a group of 9 people. The house was spacious with sufficient room to "get away" when someone needed time away from the rest of the group. We didn't feel we lacked anything! The dining table was big enough for all of us to sit down to eat together. The view from the deck was amazing. The owners were friendly and accommodating and made our stay a smooth and enjoyable one. I would definitely recommend this home for any group of people who want a relaxing and quiet environment. Tiki Island is a perfect location for enjoying Galveston activities and Houston activities. The home was out of the bustle of traffic and provided a "haven" away from tourist traffic. Recommended for: Age 55+, Girls Getaway, Families with Teenagers, Families with Young Children, Romantic Getaway

David Lipscomb
David Lipscomb - Review Submitted: October 10, 2006 Date of Stay: October 2006 We were looking for a place to get away and fish for a few days and boy did you deliver. We stayed in the apartment and had a blast walking out the back door catching fish all night. Great place, great hosts! We will be back.
Anonymous Dallas, TX
5 Review Submitted: September 18, 2006 Date of Stay: September 2006 Our stay at Tiki Island was excellent. The house, amenities and fishing were top notch! If you are staying in the Galveston area and need more space than one or two rooms, this is the place for you. We had 10 guys stay comfortably for 4 days. Everyone had a blast and certainly look forward to a return trip. Jim is a very nice guy and accomodating landlord. Keith Dallas, TX

August 6th, 2006
Gregory & Cherry Reedy Denton, TX
Gregory & Cherry Reedy Denton, TX Review Submitted: August 17, 2006 Date of Stay: August 2006 Dear James and Pat, We have not been home a week yet, and we have already recommended your place to a number of people. We are also talking with other couples who might want to join us at a later date for a return trip to Tiki Island Palms. We had a wonderful time during our week's stay! For those reading this comment page, Tiki Island Palms is everything they say it is, and more. There were 9 people in our group. The property is spacious enough that those who wanted activity and to be boisterous were able to enjoy it, while those who wanted solitude to read or relax could find room to do so at the same time. It is wonderfully appointed with nice, comfortable furnishings. While the many pictures on the Web are good, they cannot do the place justice. You have to be there to fully realize how nice the place is. Many items we did not expect were available to us upon our arrival - spices, laundry detergent, etc. The items you use daily, but have to think of to pick up when renting a house for a vacation. Replace what you use up, or what you get close to using up. Same as you would at home. The location is ideal. An almost ever-present breeze kept the hot Texas August at bay, beckoning us all to remain outside for the majority of the day. Those fishing from the dock sat up to the wee hours of the morning, catching bigger and bigger fish as the night wore on. The big fish always seemed to arrive toward midnight and 1:00 AM! Though just a short distance off the causeway, Tiki Island Palms is quiet, private, and secluded. You are minutes from Galveston and all the sights, sounds, fishing, and excitement. Plus, it is less than a half hour back toward Houston to get to NASA. We had the pleasure of meeting James and Pat upon our arrival. They are a fantastic couple and gracious hosts. They greeted us and welcomed us personally, then gave us a tour of the house to acquaint us with where everything was. We also had the pleasure of visiting with them toward the end of our week there when they stopped back by at our request to help us revel in the fish we were catching off the dock at the house and from the off-shore fishing trips various ones in our group had gone on. We all took great pride in flying the American flag available to us, putting it out in its mounting on the deck of a morning and bringing it in at night - showing the flag the respect it is due. We highly recommend Tiki Island Palms to anyone considering a trip to the coast.

Darcy Ribman Dallas, TX
Darcy Ribman Dallas, TX Review Submitted: June 9, 2006 Date of Stay: June 2006 What a wonderful home! The house is very spacious and kid friendly. Every amenity. Jim and Pat went out of their way to make our stay enjoyable. Thanks.

Dion Bellor
We enjoyed the rental very much. The owners are very nice and easy to deal with. The house was clean and the price was right. Fishing was good in the canals we caught many types of fish on our trip. Redfish, flounder, rays, croaker etc.... We would rent from them again.

T Boyd (Houston, Texas)
We spent 3 days at this home on the bay. We brought our boat and utilized the boat slip. It is located in a peaceful community. The home had all the emenities nedessary and the decks are wonderful. Great for relaxing and enjoying the bay. Although we did not catch any fish - we enjoyed our weekend at this lovely home and plan to return this summer.
Add a Review