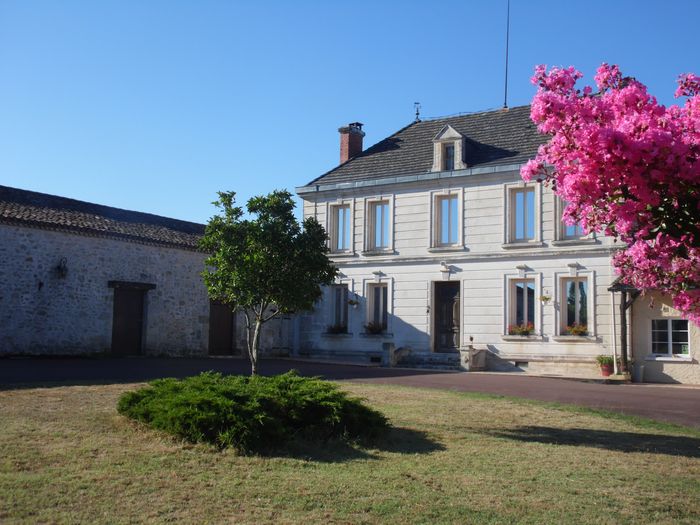 Owner's Calendar
5 Bedrooms, 5 Bathrooms, Capacity: 10
Owner Contact Information
Private Owner
Charmaine Brown
Le Manor de Gurson, Beaulieu
Montpeyroux, Dordogne 24610
Phone:
Website:
N/A
Member Since:
Mar. 28th, 2010
Other Listings:
Rental Rates
5 Bedrooms, 5 Bathrooms, Capacity: 10
1,100€ 06/01/2019 - 23/03/2019
1,400€ 24/03 - 07/04/2018
1,250€ 07/04 - 09/06/2018
1,750€ 09/06 - 30/06/2018
2,200€ 30/06 - 21/07/2018
2,600€ 21/07 - 01/09/2018
2,200€ 01/09- 10/10/2018
1,500€10/10 - 03/11/2018
1,100€ 03/11 - 22/12/2018
1,400€ 22/12/2018-05/01/2019
Property Description
Bedrooms: 5. Bathrooms: 5



Awaken your senses at Le Manoir de Gurson, a 5 bedroom country manor house set within a private 98 acre estate. comprising of 3 fishing lakes, meadows, woods and pool.
We are situated between the historic towns of Bergerac and Bordeaux, in the wine-growing region of the Dordogne, close to St. Émilion. This outstanding Manoir sits in a totally private location, with incredible views over vineyards and the rolling countryside.
Location: For a relaxing holiday Le Manoir de Gurson is the ideal base from which to explore all that this region has to offer. Nearby is the blue flag site Le Lac du Gurson - with a sandy beach and swimming lake, bars and restaurants. There are plenty of nearby activities for those who want an active holiday - cycling, canoeing,stand up paddle boarding and hot air ballooning to name but a few. Discover ancient Chateaux, pre historic caves, grottoes, gardens, museums, weekly markets, and more. Free Dordogne golf pass, allowing you to play at 7 excellent courses for a reduced fee..
For those who just want to sit back, relax and get away from it all, there are plenty of good walks, this area is great for bird watching, star gazing, photography, painting and lazing by the pool.
For individuals or couples/friends, we also run fully-catered holidays, including Painting and Drawing, Sculpture, Bird Watching, Walking and Spiritual Development. The cost (from £575 per person per week, no single supplement) includes accommodation, meals, and trips to several of the interesting places in South West France. Please contact us for details.
Photos
Amenities
Private pool
, 3 fishing lakes
, Free Internet access
, Fitted kitchen
, Fridge and freezer
, Dishwasher
, Barbecue
, TV
, DVD player, DVDs
, Patio tables, chairs
, Washing mc, dryer
, Sun loungers
, Near beach
, Books, board games
5 Bedrooms, 5 Bathrooms, Capacity: 10
Beds: 4 King, 2 Twin. Cot & toddler bed available
Minimum Stay: 7 Night Minimum



Lake View
Further Information
500 euros returnable damage/breakage deposit
Nearby Attractions: - Swimming, fishing, cycling, walks through the woods, star gazing. Beach, tennis, and lake at Lac de Gurson, 2km. Canoeing/kayaking in Montpon-Ménestérol, 12km. Golf: There are 7 good courses in the Dordogne, including Chateau de Vigiers. Ask about the free Golf Pass, withdiscounts. Aqua park and karting at Bergerac. UNSECO world heritage site-St. Émilion, famous for its wines, 25km, and largest monolithic church in Europe.&amp
Reviews
Average Rank 5 Stars from 27 Renter Reviews

May 18th, 2013
A wonderful week with some lovely people
Painting, fishing, visiting places of interest, including nearby towns and vinyards were all facilitated by our hosts who put themselves to a great deal of trouble to ensure we had a wonderful holiday. The outstanding grounds hosted nightingales and orchids, coypu and some splendid coarse fishing. The accommodation was of a very high standard and eating 'en famile' with other guests and our hosts was a delightful way to round off each day. A great place to be for an active holiday break or just to lounge around!

July 26th, 2013
French Watered Retreat Of Beauty & Peace
We visited with a two family group of 9 in July 2013. We were looking for a large house with a pool with fishing and in a central location hence why we chose Le Manoir. Charmaine was a more than accommodating host when we arrived very late the first day and was very quick to rectify any concerns or help with requests. The house and grounds are perfect and set in a beautiful part of France. It has a couple of lakes in the grounds which would suit amateur fishers and an amazing pool setting looking over the lakes. My kids were happy it had WiFi and also British TV. The rooms were large and in good order but there is no air conditioning or fans and it was a really hot few weeks. We have travelled widely as a family and normally visit Spain as we love it so we thought we would give the kids a different perspective to try. For me personally I generally found the French a little lacking when it came to customer service & courtesy particularly in tourism sites, compounding the general opinion, even walking out of the local Aqua Park in Bergerac as the woman actually huffed and walked off because we couldn't understand her. We found that they speak or pretend to speak very little English however every other song on the radio was in English & they wore clothes with union jacks & stars & stripes on. There was a reluctance to help even if you attempted to speak French, but found out if I said the word in a French animated form and added 'ie' on the end to great amusement they actually understood me, not kidding try it! I got the feeling they have no time for tourism so you have to enjoy it on our own terms as we did very much. St Emillion is a magical beautiful day out, the wine vineyards are amazing, Bergerac is beautiful, Bordeaux in very good for retail therapy, the local Lac De Gurson was just being finished but we did enjoy it with free Kayaking too. There is also another great local lake, kayaking on the Dordogne etc. The French like to gather in squares, talk & eat from stalls and play live music which is fun and the food is great. Other than that the shop opening times are very random and they go to bed early so be sure to seek a booking or be careful about just turning up after 8pm at a restaurant. They don't do lively bars & nightlife here but the local in Villefranche is great and the Spainish owner is friendly with a great vinyl collection. You will also not have a bad coffee in France, for that I applaud them as a coffee addict! The bakery's are great but dangerous for your waist line. The Pan Au Chocolate are delicious compared to the one's we buy from home. If you order a steak well done by the way it will still come back with blood, I see the French like to eat meat a lot and not that well cooked %-# This could explain a lot :-)

July 5th, 2013
Fantastic large self-catering family property
We booked the Manoir de Gurson for a group comprised of 7 adults and 2 children (aged 6 and 8) for a one week self catering holiday, Both the property and hospitality of the owner were exceptional and exceeded our expectations. The grounds of the property were an absolute delight and everyone in our group took to exploring the fields, woods and lakes at least once. We saw plenty of local wildlife including deer, kingfishers and owls. The property itself was ideal for a group as each room had its own bathroom which for a group mostly comprised mostly of adults was essential, especially when we needed to get an early start in the morning. The catering and dining facilities were also excellent and we put the large BBQ to good use on 2 occasions. The terrace was tranquil and relaxing (when the kids weren't around!) and the pool was a perfect depth for ages 6+ (at 1.2m) and ideal for adults inclined to take a refreshing afternoon dip. In the evenings if the weather when the sky was clear the potential for stargazing was staggering (see photo)! As a base the property was excellent for experiencing all the region had to offer. We enjoyed visits south and west towards Saint-Emilion while also traveling north to enjoy the excellent food at the night market in Le Pizou and canoeing/kayaking from Montpon-Menestrol.

August 10th, 2013
Traditional French manor house with a warm welcome
We were very much looking forward to our 2 week break at Le Manoir de Gurson having booked online back in October 2012. All communication from Charmaine was conducted in a timely and professional manner and this gave us great hope that we would have a fantastic family holiday - and we did. The house is not your modern, chic box but more in line with a typical French manor house and is all the better for this. We were welcomed by Charmaine who immediately made us feel at home and had arranged for several grocery items to be collected for us before we arrived so that we didn't need to move from the house for a couple of days. The welcome barbeque on the first night was just brilliant, with Tim cooking pork steaks (sorry to have the biggest one Tim - I know you had your eye on it!), chicken and mergazze along with a big salad and more that enough red wine (hic) - a really brilliant welcome and very appreciated given the long drive we had just completed. All the rooms have very high ceiling making them an ideal escape from the midday sun and they are all tastefully furnished and fully equipped. There are a couple of areas around the house that were beginning to show their age a little (down stairs toilet in particular) however, that said the house was clean and tidy upon our arrival and Charmaine and Timothy did a mid stay clean half way through our holiday. The kitchen is big enough and well equipped for a large family but be careful of the decorative bar that runs along the edge of the work surface - a couple of us caught our fingers in it while opening and closing the draws - ouch! The house is ideally located with just a 5 minute car journey in to Villefranche de Lonchat (small village with boulangerie, village stores (super expensive), a small bar and restaurant) and a fantastic night market (Friday nights) with wonderful food where all the village come out and eat, dance and drink! The nearest town is Montpon (10 minutes further on) and this is where you will find a large selection of shops and a fuel station (Intermarche). There is a Lidl there too which is even cheaper than the Intermarche - and their 2008 Rioja is a steal at 3Euro (I know...I know...when in Bordeaux and all that - but I couldn't resist!!). All throughout our stay, we were given this advise from Charmaine who really couldn't have done more to be a fantastic host and who had the canny knack of knowing when to be around and when to make herself scarce. The facilities of the house were excellent, the pool was superb, the patio just perfect for a quiet cuppa first thing in the morning, breakfast with the family, sunbathing in 30 degree heat, long relaxed lunches under the parasols and all rounded off with a family meal whilst the sun sets. Perfect. In conclusion, a wonderful house offered by wonderful hosts in an amazing location with superb facilities. All this means you will be guaranteed a relaxing, memorable holiday and you really will want to go back again (I know we will!). Thanks Charmaine - see you again soon!

October 12th, 2013
Therapy for Your Mind
I went to visit Manoir with my mom and friends and we had a great stay. The nature around is beautiful and it is a great place to rest. The rooms were nice and clean. There is also a nice view of the lake behind the Manoir and an old ruin, which adds to the peaceful atmosphere. There are plenty of activities to do and it is a good strategic place if you want to visit Bordeaux or Bergerac. So even though it might not be the best place for nightlife and parties, it is definitely the best for getting your head out of the busyness of your city life.

April 12th, 2014
All the majesty
Charmaine was a very polite and pleasant host. She really knows how to welcome you, make you feel at home and then give you your space. It was a very pleasant experience for us. The rooms were stunning. They had everything you needed including a lot of space and private bathrooms. The location was pretty much far from everything but close enough. That was part of it's charm. All the majesty of the scenery out back was breathtaking. Almost too much to take in during one sitting. We would love to go back tomorrow if we could!

July 19th, 2014
a lovely peaceful place
We stayed here with our family for a week. Charmaine and Michael were excellent hosts, very attentive to our needs and giving good local advice on where to visit. The house itself is great, with a fantastic pool and plenty of room for the kids ot run around. A lovely peaceful place, i woudl thoroughly recommend it.

August 16th, 2014
Just superb!
This is our second (but definitely not last!) holiday at Le Manoir - and it never disappoints. As mentioned by other reviewers Chamaine et al are the perfect hosts, there is nearly always someone available to answer any questions (or lend you some mustard) and their knowledge of the area is fantastic! The welcome barbecue was brilliant - no need to shop and cook - lots to eat (and drink - a few sore heads the next day!) The peace and quiet is amazing and the weather was fantastic too - not too hot but none of the threatened rain either. Fishing was great - plenty to be caught and so peaceful too - my husband spent many a late afternoon alone with his rods enjoying the early evening sunshine. The house is amazing - so much space and so many bathrooms - every room is en suite so there is no fighting over the shower. The only thing that marred the holiday was having to leave - but we will definitely be back!

July 26th, 2014
Tranquil paradise for fun and relaxation
11 of our family stayed here for a week at the end of July 2014, ranging from a 1 year old, twin 10 year old boys, a number of errm thirty-somethings(!) and the folks. The house itself is beautiful with everything you could possibly need. Set in beautiful surroundings, and the pool and garden area is to die for! We had plenty of barbecues out on the patio at night. Plenty of fishing in a choice of three lakes on the grounds. Mountain biking was great fun too. Charmaine and her team on site are there to help, advise and cater for your every need. A magical place, and a great time was had by all. Definitely recommended!

June 13th, 2015
Well appointed House with friendly owner
The House is large and comfortable - all 6 bedrooms are en suite - and cool when the going is hot. The kitchen is well supplied with high quality cooking utensils, crockery, glasses, cutlery and excellent kitchen equipment, My only comment is that there should perhaps be a washing machine solely for guests as the shared machine is not always free. All the rooms are well furnished and the sitting room is very comfortable with its leather sofas,as is the dining room, though we did not use it. There is a large television, many DVDs, games and books. Outside there is enormous space for exploring the grounds, round the lakes and woods, visiting the horses, or lazing on the terrace, which, though not large, has pleasant areas, with ,for sitting and eating in sun or shade. The pool is smallish but very welcome, though small children using it would need to be monitored carefully. The House is in very attractive countryside with lots of vineyards, of course, but with easy access to the small town of Villefranche (excellent restaurant) or the larger Castillon, which has an very good market.on Mondays. Bergerac is overrated but just worth a visit, and Bordeaux, which is glorious, is easily managed in a day. (use the train and avoid Bordeaux traffic. We caught the train from Castillon). The owner and her associates do not intrude but are immensely warm, helpful and friendly when approached - we greatly enjoyed getting to know them and ended the holiday with a contest at Petanque, which they won. The BBQ prepared for guests on the first night, very thoughtful after long journeys, to enable us to meet Charmaine and her family and helpers, was quite superb and made us feel very welcome. One small caveat. The House has good wi fi but reception on mobile phones can be patchy. I would wholeheartedy recommend this House and area.

July 4th, 2015
Fantastic family holiday in Rural France
To say this exceeded our expectations would be an understatement. We were really looking forward to a different holiday in the countryside enjoying the sights and sounds of wildlife (all are here) but the fun and excitement the children (3 boys and 2 girls) got from the equestrian centre was exceptional. Our two girls rediscovered their love of and confidence in horses (back cantering and jumping within a week). The view from the swimming pool is great with no end of eagles and falcons to track in the sky the peace interrupted by the splash from the lake when one of the carp jumps to catch a hovering fly! A great place to start the day with breakfast and finish with a BBQ or just snacking on wine and cheese late into the evening while chatting. Bikes and fishing rods are all provided and we were disappointed that we did not do more of both activities (ample excuse to come back). Other highlights were the trips to St Emilion for lunch and wine tasting. Further wine tasting at Chateau La Plante is a must. We also used the house as a base to explore the Dordogne and Vezere valleys and Sarlat is a great town. In short our stay at Manoir de Gurson was really special and the children want us to go back soon.

August 1st, 2015
Rural tranquility
Set in pretty Dordogne countryside you can really get away from the crowds at this property whilst remaining within striking distance of lots to see and do. Excellent welcome from the owners who are on hand to help in any way.

September 19th, 2015
A great place for my first visit to the Dordogne
Friendly service from arrival to departure - nothing was too much trouble. Good sized well furnished bedroom with plenty of drawer and hanging space, a comfortable bed and the quiet location guaranteed a good night's sleep. Good sized shower with plenty of really hot water. Nothing negative to say about the property.

August 25th, 2012
Beautiful views with a 10 minute walk to the beach
We had a great family holiday, the location is great, vineyards, lake with a beach and pony rides, we had a great time! Thanks again to our fabulous hosts!

August 4th, 2012
Great house with friendly and helpful owners
We spent a week at the Manoir with our two sons and friends. A very attractive house in the old French style, well furnished and appointed and set in the midst of beautiful countryside. We made full use of the relaxing pool area which has stunning views especially at sunset. I can't speak too highly of the owners who contrive to be both unobtrusive and extraordinarily helpful. They provided excellent advice on local facilities/things to do both before and during our visit, as well as extras such as a free barbecue on our arrival. When the bike I had booked turned out to be too big for me to ride they magically produced another one from the barn, again without charge. Nothing was too much trouble. The Manoir is in an excellent position for wine buying and the owners put us in touch with several local growers, as well as arranging a tour. St Emilion is also close by with its wine shops and first rate restaurants. If you're a golfer there are good courses in easy reach - Charmaine recommended Chateau Vigiers which also has a wonderful restaurant if you're feeling extravagant. I would recommend the Manoir very highly for a relaxing holiday in one of the most beautiful and interesting parts of France.

December 19th, 2011
A lovely country escape
I stayed at Le Manoir with my partner late December 2011, just before Christmas. The first thing you will notice is the clean air, and the expanses of green that surround you. It is like stepping into another time. The manor has 2 floors, but there is one bedroom located on the ground floor which would be convenient for any guests with special needs. The remainder of the ground floor contains a foyer, a sitting room, a lounge room with a wood heater and a television (it receives both French and English cable channels), as well as a full kitchen with all the modern amenities you are used to, but still maintaining its old-world charm. Upstairs there are 4 bedrooms with en suites, all decorated impeccably. The room we stayed in had double basins, a heated towel rail and a spa bath in the en suite. The bed was extremely comfortable, and I had the best sleep I have had in months. This was also helped by the lack of disturbing light or noise. Our hosts, Charmaine and Jeff, were extremely hospitable, and had plenty of advice on nearby places to visit and good walks to do. There is a nearby wine cellar located in front of ruins, which is also famous for growing giant vegetables, and has donkeys wandering the grounds. There is also a nice walk down to the lake. The grounds of Le Manoir are complete with a swimming pool, and their own lakes. They also have chickens and ducks, which add to the atmosphere. It would be the perfect place to have a family holiday, a family reunion, or even a wedding. We can't wait to go back! Liked best: The wonderful hospitality and the comfortable bed Liked least: Nothing

March 31st, 2012
One of the very best places to go and stay
The place, the house, the lakes and last but not least the owners Charmaine and Jeff make this place to be one of the loveliest places we have been to. We are a group of friends that share their holiday for bycicling once a year and since 12 years we go to France. We have been to several nice places. But there is something about the Manoir de Gurson which makes it special: the air made us sleep wonderful; we've seen birds which we had almost forgotten that they exist; we shared hospitality and friendliness with Charmaine and Jeff - and for a very short time with a wonderful never barking guest-dog. Well: We will be at this place next year again. Thank you very much, Charmaine and Jeff for this stay (and for support on missing flour, breakfast egg, shampoo and whatever we were missing:-)) Rosemarie, Heinz, Gerhard, Claus, Dirk, Horst - your bicycle-group

July 1st, 2012
Warm and idyllic country setting.
5 Adults and 5 children stayed comfortably in the spacious Manoir. We were warmly welcomed and nothing was too much trouble. We would highly recommend the welcome BBQ. The standard of all the rooms was very high, beds were comfortable and the kitchen spacious and well fitted out. We were provided with excellent local knowledge of markets, places to see and things to do. The owners were happy to assist with any bookings or information. The kids had plenty to do with a lovely pool, table tennis and other games provided. We thoroughly enjoyed our stay and would like to visit again sometime.

August 13th, 2011
Very family orientated
Charmaine Geoff & family were very welcoming when we arrived, we had asked them to do a BBQ on our arrival. They treated us like family, they were very informative about local attractions & points of interests.Charmaine arranged for the local baker to call with fresh bread etc each morning. Geoff was so helpful, nothing was to much trouble. I would definitely go back again. Liked best: the way we were made to feel welcomed. Liked least: leaving

August 20th, 2011
Amazing Location in the heart of rural France
We stayed at Le Manoir de Gurson last month travelling from Seattle. The location is great for families who just want to relax in a beautiful setting and you're close to great food and great wine which is a short drive away. In the summertime definitely check out the night markets that serve great rural French fare. Also check out St. Emilion which is also a short drive away. Charmaine and Jeff were amazing hosts and nothing was too much trouble. I would recommend Le Manoir to anyone looking for a unique French countryside vacation and can assure you'll be well looked after and have a truly unique and relaxing break.

July 2nd, 2011
Beautiful surroundings, total relaxation
Have just spent a fabulous week at the Manoir de Gurson. Charmaine and Jeff are great hosts for who nothing is too much trouble. The manoir has good sized ensuite bedrooms of good quality. The lounge and dining room are well furnished and contain good quality furniture. Sky TV and a laptop are available if you want UK TV and to be able to maintain email contact. In addition there is a good selection of music. The kitchen is sizeable and contains fridge, freezer and dishwasher. The fridge size could be improved as I think you would struggle for space if there were 10 of you. It would also benefit from a few more serving dishes for large parties. Most of our eating was outside on the terrace which had a great view over the three lakes. The outside furniture was standard white plastic with the only down side being there were only 3 sunbeds. The lakes were great and as two of our party fished many a pleasant relaxing moment was spent with a cold beer and a rod by the lake. Is a wonderful place for a relaxing week with friends or family. Location is very much in the country and we did have problems finding le manoir however Jeff has new signs and I think that will solve the problem. Management Response Sep 6, 2011 We always want our Guests to have a lovely time here, and welcome suggestions. To make holidays even better, we have added several items: Indoors - The tv now has European channels in several languages; the fridge is large enough for a family of 12, but we can add another if requested; we have supplied several more serving dishes, large salad server, and extra utensils. Outside: there is a swing hammock, an outdoor table-tennis table, extra sunbeds are in hand; and the new Manoir road signs have been installed.

June 23rd, 2010
A very warm, friendly atmosphere
I would recommend Le Manoir to anyone who wants an authentic rural experience in the Dordogne. Charmaine and Jeff are very friendly and make a real effort to keep guests happy. The Manoir itself is in a great location right next to a very pretty lake and surrounded by pictureseque farms and countryside.

August 20th, 2011
A great place for a large family holiday with kids
The owners could not have been more helpful, nothing was too much trouble. Excellent facilities (pool, 2 fishing lakes, golf range and walking) in a lovely setting. Top marks for children of all ages. Liked best: The pool and outdoor facilities

August 27th, 2011
Beautiful, peaceful location with charming hosts!
A lovely manor house with many recreational facilities both indoor and outdoor. The location and countryside are beautiful with plenty to do nearby. The owners couldn't be more helpful.

August 21st, 2010
5 star accommodation and surroundings
Having spotted Le Manoir de Gurson online we wondered whether our expectations would be met, none of our 11 strong group were disappointed... The Manoir was very clean, with extremely spacious rooms. Each bedroom had it's own style, delightfully comfortable beds and tastefully finished en suite bathrooms. All the facilities throughout the property were in good working order. The decor was classic (recently redecorated) and the beautiful furniture thoughtfully arranged. Charmaine and Jeff, who live next door, not only cooked us a delicious welcome BBQ, but throughout the booking process and our stay their 'can do' attitude was a fabulous. They were to hand to answer queries, offer suggestions of local markets and sightseeing visits and arranged local restaurant bookings/ wine tour and would have organised further activities if requested. We were made to feel as welcome additions to their family. Saying that our party had complete privacy, with the freedom to roam throughout the 98 acres and carry out whichever activities we had a whim to undertake (rowing / fishing / golf / table tennis / basketball...). The patio and swimming pool were areas we used the most, and perfect for BBQ's, reading in the shade, sunbathing and meals en-masse with breathtaking views in every direction. The property was perfect for our group (ages ranging from 6 to 75) and the location ideal for exploring the Dordogne region (although some of our party only left the Manoir a couple of times during our stay as they were more than content within the grounds). Since our return (only a couple of days ago) our glowing reviews of the property have prompted friends and colleagues to want to visit Le Manoir, and we hope to stay again in the not too distant future. I shouldn't really have written too glowing a review, as we don't want this place to become booked up / or to miss out on the opportunity of visiting Le Manoir in the future, however others should experience this place, it is stunning having so many positive attributes, impossible to include in this review... go visit!!

July 31st, 2010
Fantastic holiday!
The welcome barbeque was wonderful, especially after the long drive, and the hospitality provided by Charmaine, Jeff and the children was unsurpassed! Fabulous location, we spent many an evening drinking wine overlooking the lakes where, incidentally, my husband spent many happy hours fishing. The photographs really do not do justice to the countryside. The house was clean, well equipped and extremely comfortable. Charmaine and Jeff were on hand to answer any questions we had (and to lend us bits and pieces on occasion!) but made sure we had as much privacy as we wanted. The pool was lovely but not used as much as it could have been as the weather was a bit iffy (but better than England was!). We had some lovely day trips out to St Ιmilion, St Foy le Grand, Bergerac etc. as well as visiting one or two vineyards and going horse riding (never again!). We especially loved the night of the shooting stars where we were made comfortable on the front lawns to gaze heavenwards for hours! The only drawback was the distance to the nearest shops / supermarkets so we had to be very organised with our shopping lists! All in all a fantastic place, with wonderful hosts. Thank you very much for making our stay so memorable and we hope to see you again next year!

July 25th, 2009
Beautiful house in wonderfully peaceful location
We arrived to an unexpectedly warm welcome where Charmaine & Jeff cooked us a wonderful BBQ with local wines; a great treat after a long drive from Kent. Throughout our stay, we were made to feel very welcome by our hosts who live in the adjoining house to Le Manoir and they were always ready to assist with anything we needed from local information such as nearest shops, markets and vineyards to 'guided' mushroom hunts through the woods on the property. Our children enjoyed the horse riding and the grounds were a great place for adventure and exploration. The accommodation was as we expected with great bedrooms/en-suite facilities, a huge living & dining room (that we hardly used due to the glorious weather) and a large family kitchen. Our stay was a totally relaxing and thoroughly peaceful experience and a good base for exploring the western end of the Dordogne. If you're a cyclist, the surrounding areas were an absolute pleasure to ride with great surfaces, no potholes and all motorists appearing extremely courteous. We'd like to wish our hosts every success as they continue with their ongoing development plans for Le Manoir, which can only improve what is already a fantastic holiday destination for those who seek the tranquility of the countryside rather than the crowds of the better known towns further east in the Dordogne Valley.
Add a Review