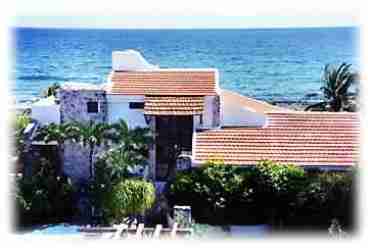 Owner's Calendar
4 Bedrooms, 4 Bathrooms, Capacity: 10
Owner Contact Information
Casa Caribe
Roger
Contact Owner
Dallas, TX 75229
Phone:
Website:
N/A
Member Since:
Feb. 13th, 2003
Other Listings:
Rental Rates
4 Bedrooms, 4 Bathrooms, Capacity: 10
Jan 2- Apr 20, 2012 - $3100 wk
Apr 21- Aug 24, 2012 - $2700 wk
Aug 25- Nov 16, 2012 - $2200 wk
Nov 17- Dec 21, 2012- $3100 wk
Dec 22, 2012 - Jan 4, 2013 - $5500 wk
30 percent off all new 2011 rentals,
excluding holidays
Property Description
Bedrooms: 4. Bathrooms: 4


Perched on a rocky, ancient coral reef, within walking distance of two beautiful white sand beaches on the Caribbean coastline, the villa Casa Caribe, offers all the traditional charm of Mexico: red tile roofs, the rustle of palm leaves in the sea breeze, and riotous stars, all with the breathtaking view of the ocean or jungle from every window. Hop on a plane from Cancun, rent a car, and drive one hour south to Akumal, and find yourself in the low key paradise you've been looking for. Does swimming in an aquarium sound good? A few minutes walk to Yalku Lagoon is recommended on a daily basis to refresh your sense of natural living. There's world class snorkeling and scuba diving anywhere along the 250 mile reef; some of the best, right out the back door! It won't take long to find a sea turtle in the water or a nest on the shore, as Akumal means "Place of the Turtle" in Mayan. While you'r sipping a cold one and munching on chips and homemade salsa, the kids will discover the pizza parlor and ice cream vendor.
Akumal, with it's beautiful beaches, is small, clean, environmentally aware, and just minutes away from Mayan ruins, caves, underground rivers, golf courses, and jungle explorations. Dive shops, great restaurants, and a grocery store are walking distance from the house. This is the land of white sugar sand beaches, reef outcroppings, and exotic wildlife, set on the turquoise coast of your dreams! Casa Caribe is a two story, walled villa, offering security and complete privacy. The main house is 2500 square feet and decorated in Mexican style, with beautiful, hand-carved furniture and original artwork. The master is upstairs, with oceanside balcony and star gazing from the roof. The other two bedrooms and adjoining baths, are downstairs, along with the living room, dining room, and full kitchen. The furnished back patio is seaside and private, while the front garden/patio has a pool and large deck area, with arbor, lounge chairs, and a gas grill. The guest house is one bedroom with adjoining bath, living room, and small kitchen, and can sleep an additional three people. This is a wonderful house for a family or group of friends, with ceiling fans throughout, air conditioned bedrooms, maid service six days a week, and a gardener/handy man at your service. Hot sun, cool shade, beautiful beaches, and sea breeze in abundance....sound good? Get in touch with us....
Photos
Amenities
Air in bedrooms
, Satellite TV
, DVD Player/ VCR
, CD and Tape Player
, Full Kitchen
, Wireless Internet
, Linens Provided
, Towels Provided
, Gas Grill
, Pool
, Bottled Water
, Maid Service
, Ceiling Fans
, Safe for Valuables
4 Bedrooms, 4 Bathrooms, Capacity: 10
Beds: 1 King, 1 Queen, 1 Double, 3 Singles,
Minimum Stay: 4


Beachfront, Water View
Further Information
Nearby Attractions: - Snorkeling, Scuba Diving, Dive shops, Fishing, Boating, Biking, Hiking, Swimming, Golf, Fitness Center, Restaurants, Museums, Sightseeing, Shopping, Sailing, Wildlife viewing, Windsurfing, Shelling, Sunbathing, Mayan Ruins, Kid's Club, Cenotes, Ecological Center, Biosphere, Turtle Walks, Jungle Walks, Playa del Carmen, Cozumel, Eco Parks, Caving, Dolphin interaction
Reviews
Average Rank from 9 Renter Reviews
March 19th, 2010
Casa Caribe was perfect for our two families
Mexico was more than we could have imagined. Every day was a new adventure with better treasures found each day. Casa Caribe was perfect for our two families. My husband and I had the casita and loved it's comfort. The main house is beautiful ans inviting for all. We went off the "tourist track" and explored lots on our own - Akumal Bay for turtles - never seen one eat before. Half Moon Bay - beautiful corals - even saw octopus. Tulum - must see - very beautiful beach - in town as well. Xpu-Ha beach became a favorite for lunch and relaxing. Dos Ojos cenote - best of the 3 we did. Cenote Cristol fun for kids and cliff jumping. All restaurants were delicious. Kids loved to play at La Buena Vida tree houses any time of day. Adults enjoyed Que Onda (kids did too). Lol Ha for lunch at the beach - stuffed hot dogs amazing! Christina and Luis were very helpful and sweet. Have Christina make dinner for you. We loved it and her husband even did all the dishes! Yummy! Roger's suggestions were very helpful and we appreciated all the guidance. We hope to return some day to this great paradise! Thank you! John and Valerie Goether Columbus, Ohio
January 22nd, 2010
The Casa is Amazing
Got my toes in the water, my ass in the sand, not a worry in the world and a cold beer in my hand. This song by Zac Brown Band perfectly describes our wonderfully relaxing vacation at Casa Caribe. 7 of us and one child spent the week here with side trips to Coba, Tulum, Dos Ojos and Playa del Carmen! In Akumal, though, the best they were ( apart from the house ) the breakfast sandwiches at Turtle Bay Cafe. We rank Akumal landmarks as follows: Turtle Bay Cafe, La Buena Vida, and the beach restaurant (Lol Ha). Yalku was beautiful, but the best snorkeling is in Akumal Bay. Miguel was a fantastic masseur - ask Rhett about him. Christina and Luis were great. Christina's Chili Rellenos and garlic shrimp and keylime pie were amazing meals to have at home! Wednesday we hit karaoke at La Buena Vida, which was fantastic. Check out a dive with Natalie and Ivan for a great and energetic intro to diving in the area. We bought all our groceries in Tulum and used the ATM next door - and it was worth it - but still we ate at La Buena Vida and Turtle Bay Cafe and Lucy's Ice Cream multiple times. The Casa is amazing. The view we woke up to is inspiring and you can't help but get up for the day ahead - even if you go to sleep on the beach. Thank you so much! Sujata (NYC)
January 7th, 2010
Family approved! Thanks for a great week
The Bay family's last day in Akumal! We've really enjoyed our stay here! So much to do, so little time. Highly recommended= -happy hour at La Buena Vida. Swing it up -Dos Ojos Cenotes - swimming in a cave w/ bats. what's not to love. Bring a wet suit & flashlight or pay up for a guided tour. -Dinner at La Lunita. A bit more pricy, but not a bad thing on the menu. -Breakfast at Turtle Bay. Excellent pastries, among other things. he finest dogs around, I'm sure. -Check out Tulum. Just down the road - fun town. Very Akumal - goes to - Woodstock - in - Mexico. -Go across the highway & buy yourself some tocos at Lucy's, Delicioso. Wish I'd had more time to check out that area - the real Akumal. -Snorkling was excellent just about everywhere. Best underwater flora and fauna = Half Moon Bay. Turtles and sting rays about night at Akumal Bay - go later in the afternoon & stay close to the buoys. The lagoon is nice too, but you'll certainly pay for your time and might get a few friendly fish bites. We loved it! Bay - Family approved! Thanks for a great week. Liz Wagner and the Bays
June 21st, 2010
All I can say is wow! and a big thank you
All I can say is wow! and a big thank you. We had a wonderful time here at Casa Caribe & Akumal. The Staff has been wonderful & we fell in love with Christina, she is a wonderful cook. We went to the Tulum ruins, very cool. If you go pay extra for a guide & ask for Diego, he's a funny little guy, but he knows what he's talking about. The ocean is beautiful. We hate to leave and go back to Kansas. I would like to thank my brother, Dirk for asking us to come help him celebrate his 50th birthday on the beaches in Mexico. It was truly a vacation I will never forget. Thank You, Roger & Shelby Chase Derby, Kansas
May 28th, 2009
Casa Caribe was beyond words
Howdy from Texas!! Words can't discribe the amazing week that just passed by. I sooo am looking forward to the next time I can again stay in this wonderful place. Casa Caribe was beyond words. We had an awesome trip. Some it was their first time and they absulutely loved it. I have an obsession with gnomes and I left a few behind for you to bring you good luck. See if you can find them. Until next time! Laurie & Jean Sidall
April 2nd, 2009
Casa caribe is amazing,peaceful and calming
As always, Akumal was a great time, it's great to get out of the snow and come to the tropics. Yal Ku is amazing. Go in the morning before the tour buses get there. Very Peaceful. 20 min toward Tulum is the turtle sanctuary beach which is beyond words. Peace, beauty and serenity. But goof luck finding the turn off. It's not marked and a dirt road leads to the beach. Cross the highway and go into the real town. The food is amazing and cheap. also the grocery store is much cheaper as well. Look for the lady on the right side of the road headed in almost at the top of the hill. She has the best BBQ chicken you'll ever eat. Casa caribe is amazing,peaceful and calming. Ziggy is great fun to watch and share breakfast with. Look under the water heater early in the morning. Everyone is very friendly here, but beware of the gas attendants. They are very tricky and will try to play games with you and your money while you fill up. Ben and Amber - Denver Jen - NY
February 20th, 2009
Our stay was fantastic
Our stay was fantastic. We has the best time ever!! We certainly will miss the scenery, food, heat, pool and snorkeling here!! We will never forget this stay. We had a great time snorkeling at Yal Ku lagoon, eating at La Buena Vida and Que Onda, wondering in and out of the shops in Akumal, swimming here, in the ocean and at La Buena Vida and simply being here!! We will miss Christina and Luis, who were great! We hope to come again!! Sofia, Paul Luise (Montreal) Julia (Montreal) Bob, Michelle Ross (Ottawa) Susan (ottawa) Stephanie (Toronto)
November 20th, 2008
I really don't want to leave!
I really don't want to leave! But I must. The ocean, Christina and Luis, Carlos and Margarita at the Akumal Dive Center, Sarah at Mexico Maya. I have once in a life time friends in another country! Hidden Worlds is a must go to if you stay here! We leave in the morning. I will miss Ziggy the iguana most, but more important is that there will always be a place for Akumal and Casa Caribe in my heart. Magic is in the town. Akumal is a little corner of the world that will never change. The Stern family Lafayette, CO
June 1st, 2008
Our vacation here at Casa Caribe has been so fanta
Our vacation here at Casa Caribe has been so fantastic. We created so many lasting memories we will never forget. One of or favorite places to eat was at Turtle Bay, very good food and awesome cinnamon rolls that our son loved. We snorkeled at Yal-Ku lagoon, the view there is speechless. Xel-Ha was a wonderful place for the whoe family, I suggest at least two days. Food was awesome with a big selection to feed even the pickiest eater. Drinks awesome. Playa del Carmen is a shopper's paridise, you could stay there all day. Tulum - good shopping also and we loved looking at the ruins. A word of advise, make sure when you put gas in, be careful the guys like to pull one over on you and switch the bills, like you give them &50 and they say you gave them $15. They were caught red handed. Our family would love to come again. We love Akumal!! Everyone here was friendly. Chrisina, I would love to take her home. Louis - very, very hard worker. He would get coconuts in the tree for us and fresh juice. Both of them spoiled us. Casa Caribe would be recommended to everyone. Rhett gave us good tips!! Iguanas were a site to see. We loved everything about our weeks vacation here. I'm sad to have to go back to Colorado. The view of the water was so awesome. Very peaceful here. We will be back. The Fuller family Colorado Springs, CO
Add a Review