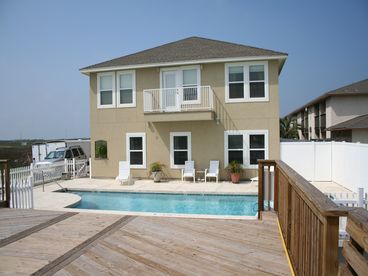 Owner's Calendar
3 Bedrooms, 2.5 Bathrooms, Capacity: 7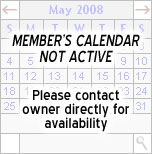 Owner Contact Information
Private Owner
Lynne Hooker

Corpus Christi, Tx
Phone:
Website:
Click here
Member Since:
May. 15th, 2007
Other Listings:
View here
Rental Rates
3 Bedrooms, 2.5 Bathrooms, Capacity: 7
Sept 1 -February 28,2015
275 per nt, weekdays 275 w/e, 1,875 per week
March 1, - May 31 2015
300 weekdays, 300 w/e 2000 per week
June 1 - August 31, 2015
$350 weekdays, 350 w/e, $2,400 per week
Major holiday rates $350. pr nt.
Spring break, $350. per night, $2400 per wk
Monthly rate , Oct. 1 - Feb 28,$2,500.00
Property Description
Bedrooms: 3. Bathrooms: 2.5


This Island beauty is an owners unit and meticulously maintained. Two story, 3 bedroom 2 1/2 bath townhome at North Padre Island. It has 1,600 sq. ft. of living space, tiled floors, carpeted bedrooms, granite counter tops,all upgraded stainless steel appliances, gas stove, convection oven, washer and dryer . It is nicely furnished with island decor with many extra touches throughout. Has one king bed, one queen bed, two twin beds with one twin sofa chair. It has a fenced patio with barbeque grill and outdoor shower for ease after a dip in the pool or ocean. The townhome sits facing a huge canal with beautiful views. Enjoy our lighted fishing and boat docks. Boat access via Packery Channel is just a few minutes away. The pretty pool and deck are right outside your door! The six unit complex is ideal for the family that enjoys a bit of privacy and the personal touches of home. All within walking distance, two blocks to the beach and the newly constructed jettie. Fully stocked with nice linens, dishware and lots of cookware. Close to local dining, Bob Hall pier, area entertainment, shopping . And top that off with the best view of a Texas sunset you can imagine!
Call for more information
Photos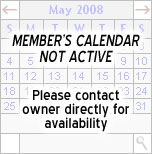 Amenities
Washer, dryer
, digital cable
, Pool
, Boat slips
, Gas BBQ
, Outdoor shower
, Private patio
, Microwave
, 3 TVs, DVD player
, Fishing docks
, Turbo internet
,
3 Bedrooms, 2.5 Bathrooms, Capacity: 7
Beds: 1 King, 1 queen, 2 Twins and 1twin day bed
Minimum Stay: 2 Night Minimum, for rent nightly or weekly


Lakefront
Further Information
Cleaning fee of $85.00 ,
Restrictions: - no pets, no smoking
Nearby Attractions: - Walking distance to beach, swimming, fishing, boating, skiing, best kite surfing in the country, dining, miniature golfing, shopping, great bird watching area. Short drive to the Texas State Aquarium, the Lexington, downtown Bayfront, American Bank Center, Botanical Gardens, Corpus Christi airport and more!
Reviews
Average Rank 4 Stars from 19 Renter Reviews

Beautiful property, dirty pool
This was our first time renting from this sunset harbor unit d. The place was very nice, my kids enjoyed it, only thing we came down here to enjoy the pool, it was for my son and daughters birthday, and we couldn't get in, the pool was very green and had dirt and things floating around in it. I didn't want my kids to get sick or anything so none of us went in. I called the management and said they would have someone out to clean the pool. So gave it till the next day to check to see if we could swim and it was dirtier than the day before. So we had to stay inside the house for the most part unless we went to the beach. Everything else was nice but very disappointing about the pool, the pool at Sandollar 1 which is right next door was sparkling blue, wish ours would have been that clean for the price we paid to enjoy the amenities here..

August 9th, 2013
WONDERFUL STAY!!!
The condo is absolutely beautiful!!! When we arrived we were very pleased with our choice to stay here, and Will definitely come back for another stay. Had a wonderful time!!
Owner Response: Thank you so much for your nice review. We hope your experience was memorable and hope to meet you in person next time you visit!

October 5th, 2012
Most Excellent Stay
This is the second time my friends and I have stayed in Unit F for a "Girls Only" weekend. The townhouse was perfect. It felt so clean and comfortable (like being in someone's home). The weather couldn't have been more perfect either. We enjoyed the pool and the deck so much. We also enjoyed being able to use the kitchen and the grill to cook our food. It had everything we could ask for and more (amenities were awesome). The place was quiet and renters were all respectful of each other's space. We definitely will be returning next year.

July 8th, 2012
Unit F was very nice
We had a wonderful time staying here. It was our first experience at this location. Unit F is very nice and well appointed. We would stay here again.

March 28th, 2012
Awesome Time!
What a great condo! We stayed there with 3 couples and one bay and really much appreciated the huge condo! It has everything you need and the beach is only 5 min walking distance. Nice pool and BBQ grill made our vaccation perfect! We'll be back!!! THANKS

Great Vacation
Perfect location and perfect place. I have 3 children (15, 8 and 6 years old). This town home had more than enough room and provided all the comforts as home. We went to Port Aransas one day (20 minute drive) for site seeing and shopping. We visited the USS Lexington and the Aquarium another day (20 minute drive). And visited the Padre Island Sea Shore National Park (20 minute drive). We spent 3 or 4 days on the beach and the kids took surf lessons. The beach is about a 90 second drive. We fished on the pier and caught fish any time of the day. The sunsets were different every day and incredible. My entire family (even the teenager) had a great time. The town home was a major reason for our vacation success. We will be returning and are even considering long weekend trips to the Island.

July 15th, 2011
This condo is Wonderful!!
This is our second year to enjoy Sunset Harbor. This is truly a perfect vacation spot. This condo has everything. The kitchen is better equiped than my own home kitchen making meal time a breeze. We absolutely love the covered fishing and beautiful deck. We have always vacationed in Port A but never again. Who needs over crowded restaurants and ferry lines. The beaches at North Padre are perfect.

July 2nd, 2011
Another wonderful weekend
We had a fabulous Fourth weekend. Lynne is great and makes sure everything is perfect for your visit. This is our second visit and both experiences were memorable. The accomodations are very comfortable for the whole family and everything is extremely clean. The dock, pool, and convenient access to the beach makes this place a lot of fun. I highly recommend it!

Wonderful Place, October 25, 2010 By Nichole (San Antonio, TX) We stayed in unit F to celebrate my daughters birthday and had an extremely pleasant stay. Lynne has thought of everything to make sure her guests are comfortable away from home. Our family had a wonderful time eating breakfast on the spacious deck overlooking the pool and caught nearly 20 fish from the dock in just two days! We can't wait to go back! Approved

Pick this condo!!, September 1, 2010 By Starlite Folley (San Antonio, Texas) We stayed in Unit F and it was awesome! The fishing pier was excellent. The property was very well kept. This is the best unit in the group. Marbel countertops, lovely garden tub in upstairs bath. Approved

Our yearly getaway
We found Unit F after 3 years of staying at other 'places' on the island. We travel down to Corpus every July for a Function held there, and really wanted to get out of the hotel trap. I found these condos by looking around online. We have now stayed there in July 09' and July 10' and fall in love with the place more every time, so much so that we extended our stay this year. Lynne has been the most gracious host and is always promt with any correspondence or request that we need or require. We intend on staying again this year and always reserve the condo immediatley after our stay for the next year. It is calm and relaxing and most of the time totally quiet. In response to the gentleman that was upset with the noise of bothersome children, that has not been our experiece. This past July there were I believe 5 children in the two units next to us and other than being kids they were quiet at the appropiate times. He also had an issue with being in the middle unit and was upset that he didn't have the windows to see the waterway, stating that the picture was totally misleading. This is incorrect, the pictures are more than accurate and show that only the end unit, unit F, has a window towards the water, if anyone pays attention they would know this. I would reccoment these condos to anyone and actually have to people that also travel there in July. I will never stay any place else.

The Best Getaway
This is NOT our first time here and it's not going to be our last. We always have a great time here and is really the only one we use as long as there is vacancy (Need to reserve early). Very clean, and comfortable. We use the gas grill in the patio for lunch and enjoy dinner nearby. Pool is spacious and always clean. The deck is perfect. This has always been a true getaway for us.

Beautiful Property
Wonderful experience! I looked online for 2 weeks before settling on this condo to rent for a long weekend. Lynne - the property owner - was very accommodating on several situations. We asked if we could check in early to go deep sea fishing, no problem. The condo had been rented the night before. She was able to get it ready for us earlier than set check in time of 4:00. We called on her 2 more times for help and she was very accessible and more than willing to help us. Our questions had nothing to do with the condo. Lynne went above and beyond to make our stay as pleasant as possible. This condo actually sits on the canal and the pool is right out the your door with all your windows over looking the canal and pool. Huge deck is awesome too. The pictures of the condo don't do it justice. Decorations are not only up to date but its looks professionally decorated. None of this condo's contents are "hand-me-downs" from their own home as I got the feeling looking at the millions of pic's of other condo's were. We will definitely go back and contact Lynne for our next stay.

Awesome Getaway!
Awsome Getaway!, June 21, 2010 By A. Mendoza (San Antonio, TX) This was our third year staying at this townhome for a girls getaway and it was wonderful. We once again had a enjoyable, great time. Its a beautiful townhome and has a greatview. We love that the place is right by the pool and not far from the beach. Thanks Lynne!

Wonderful Property
Wonderful Property, June 13, 2010 By Julie Berg (Spring, TX) This property was described perfectly. We had an excellent vacation. We will definitely be back again!
Great Time, June 12, 2010 By Toni (Kingsville, TX) Condo was extremely nice! Lynne was super sweet and communication with her was great. Quiet location and excellent for a family or friends! Rooms were very roomy and kitchen/dining area was very spacious as well!
Owner Response: This renter stayed in unit B

Wonderful stay, May 11, 2010 By Steve (Houston, TX) We stayed in the unit with our three children and their grandmother in addition to us and there was plenty of room. The furniture was in great condition. The kitchen was updated and spacious. The decor was not "beach gaudy" but was normal. Access to the beach is about 2 blocks away. There is a large public parking lot with ramp access onto the beach. At the access are restrooms and showers. The unit is easy to get to from Corpus. The pool at the end of the unit is nice with a huge deck overlooking Packery Channel. Overall, an excellent property that we would be happy to rent again.

Great time!, June 24, 2010 By The Sowa's (Houston, TX) We stayed here in June and loved every minute!! The house is beautifully furnished and very clean. We had a full house and never felt crowded or cramped. The beach is a short drive away, which we took full advantage of!The kitchen was great and we cooked every meal at the house which was a huge help with the budget. The view of the bay from the pool is awesome. I would highly recommend staying here! Great find!!

UNIT "F" WOW?? "B,C,D,E" I DONT THINK SO!!
THIS IS THE COMMON BATE AND SWITCH. LYNNE IS A NICE LADY AND SO HIS THE CAPTAIN, BUT WHEN IT COMES TO THE UNITS MAKE SURE YOU GET UNIT "f" FOR YES THE UNITS ARE ALL TOGETHER THE SAME ONLY UNIT "f" AS THE AMENTIES DESCRIBED. wE WAS IN uNIT"B" SAME PRICE BY THE WAY. THERE WAS A BIG PARTY THE NIGHT WE ARRIVED ALOT OF DIFFERANCE IN PEOPLE AND GROUPS BOTHERED ME SOME WITH MY TWO TEENAGE DAUGHTERS AND GRANDDAUGHTER NO GOING TO POOL THE FIRST NIGHT WAS TAKEN OVER BY ANOTHER TENANTS GUEST. I DID TELL LYNNE AND SHE DID HANDLE THE PROBLEM. MY PROBLEM WAS I FEEL I WAS CHARGED AND ADDITIONAL $75.00 FOR CLEANING BACAUSE MY GRANDDAUGHTER SPELT JUICE ON THE BED UPSTAIRS ONLY ON THE SHEETS. I COULD UNDERSTAND THE EXTRA CHARGE IF IT RUINED THE SHEETS WAS ALREADY CHARGED $75.00 AND LEFT THE PLACE CLEAN. THE OVERALL LOCATION WAS NOT AT ALL LIKE I WAS REPRESENTED BUT AFTER YOU SETTLE DOWN FROM THE DISAPPOINTMENT YOU WILL ENJOY THE CONFORT OF THE CONDO ITSELF. MAKE SURE NO WEDDING RECEPITIONS. WILL I GO BACK AND STAY AGAIN. THEIR NICE PEOPLE BUT CANNOT GET OVER THE EXTRA CHARGE AFTER SHE KNEW THE PROBLEMS I LET SLIDE THE FIRST NIGHT THERE.KEEP LOOKING OTHER PLACES NICER AND CHEAPER.
Owner Response: I am sorry that this tenant was disgruntled for a fair cleaning charge that was needed for damage to a sofa and a mattress. Extra charges are applicable for damage or excessive cleaning only.
Add a Review