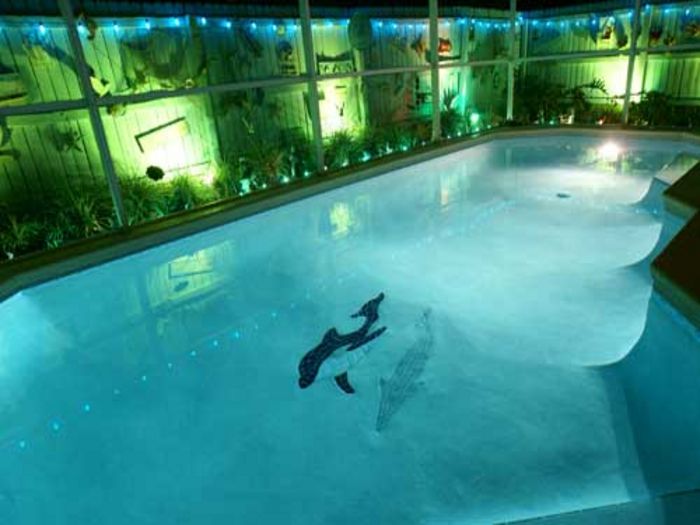 Owner's Calendar
5 Bedrooms, 4 Bathrooms, Capacity: 12
Owner Contact Information
Private Owner
Sarah & Ken Elder
Winter Garden
Orlando, fl 34787
Phone:
Website:
N/A
Member Since:
May. 15th, 2010
Other Listings:
View here
Rental Rates
5 Bedrooms, 4 Bathrooms, Capacity: 12
Property Description
Bedrooms: 5. Bathrooms: 4



Fabulous luxury: 3 kings, 2 children's theme rooms, games room, private pool, hot tub, large screen tv, internet and many outstanding features. We offer the ultimate in home comforts in luxurious surroundings. We don't aim to beat prices but we do strive to provide a high quality, exceptional value vacation home for those looking for something a little more special. Your comfort is our main priority and our home is beautifully furnished throughout, fully air-conditioned and has everything you could need to make this your vacation home from home. Our service is second to none and we guarantee prompt and personal attention from the very first contact right through to your return home. We are on call for you 24 hours a day. We also spend the winters in Florida so are on hand should you need anything at all. When we are not there ourselves, our home is looked after by our local management company who are also on call for anything you may need.
Photos
Amenities
South Facing Pool
, Fully fenced Deck
, Hot Tub
, Three King Bedrooms
, Two Themed Rooms
, 52 inch HDTV
, Game Room
, Superb Location
, Full Kitchen
, BBQ by the pool
, High Quality Bedding
, Feather Pillows
, First Class Service
, See our Video
5 Bedrooms, 4 Bathrooms, Capacity: 12
Beds: 3 King Beds and 4 Twin Beds
Minimum Stay: 1



Further Information
Additoinal cleaning fee on all vacations of 8 nights or less. Rates subject to state and local taxes
Reviews
Average Rank 5 Stars from 14 Renter Reviews

A fortunate and lucky discovery
Now we know why Sarah and Ken's home is listed as the Serendipity Villa - after staying there with our family for a Disney vacation, we really believe that it was a "fortunate and lucky discovery" on our part, and a lot of thought and work by the owners to make it a wonderful choice. This was our first foray into renting a vacation home, with a lot of initial concerns, but it will not be our last. Without doubt, when we are back to Disney this will be our first choice. With four children and four adults, the home was perfect. Most impressive was the attention to the detail, ranging from the pre-stay visit information, the comprehensive manual on the area and the house, great media selections throughout the house, comfortable beds, the stroller (pram), and so on... along with the essential food items that allowed a delay on a run to the grocery. The house is very convenient to Disney (especially via the shortcut) yet in a safe, quiet area. Thank you Sarah and Ken for playing a major part in a wonderful vacation.

Great Place to stay!
First class place to stay. We loved staying at this house. Everything was looked after and it was so much nicer than a cramped hotel room. I would come back.

orlando house
Our family loved staying at the house. We had our family of three, my sister's family of three and my parents and we all stayed very comfortably in the house. It was a great location to get to the disney parks! It was clean and comfortable and Sarah and Ken were quick to answer any questions we had. We will stay here in the future again! Thanks!

"Serendipity" was one of the best parts of our Dis
I was quite apprehensive about booking a vacation home on line. The owners were very patient regarding my concerns about paying for the home 'up front' since the only assurance that I had were the pictures on the web site (which were gorgeous), but as we all know, there are a lot of scams on the internet. They answered all my questions and addressed my concerns as best they could. I am so very happy that we reached a trust level and I chose to stay at "Serendipity". The attention to details (even having ponchos in the closet) and instructions (the sand road short cut to Disney) for us were unbelievable and greatly appreciated. The home was beautiful and clean. It was wonderful to come home to Serendipity after a long day in the park; relax in the pool or hot tub, fix our own dinner and be together in the great room to watch one of the DVDs from their large selection. We could not have had this togetherness in a hotel (even a suite). Thank you for allowing us to stay in your beautiful home which was a wonderful part of our vacation.

No better place to spend Christmas and New Year wi
We were fortunate enough to stay for three weeks in this fabulous home from home. Everything about it was just great - from the Christmas decorations outside and the Christmas tree inside, the pool, the well equipped kitchen, the games room, etc. They had thought of everything to make life easier. We loved the theming of the children's bedrooms, and the grown up feel to the other bedrooms and rest of the house. The living room meant that even our party of 10 could fit comfortably to watch TV or share memories of the day. The location was the best thing, literally only 5 minutes from Disney - exactly what it said on the website. Ken and Sarah were so helpful from our initial enquiry, with nothing being too much trouble. Now that we have stayed here, we don't want to stay anywhere else and we can't wait to return, although next time hopefully it will be a bit warmer.

Best week of our trip
We are from Australia and had 1 week after new years at Sarah & Ken's home in Orlando. Being only a few miles from the theme parks and even closer to shops the location was great but the real suprise was the accommodation. Plenty of rooms and bathrooms, great kitchen and eating space, huge lounge area and a warm spa and pool greeted us when we arrived. The highlight was the garage full of games such as pool table, air hockey and xbox. The security system was easy to operate and Ken called the first day to check if everything was OK, it was great to hear a Scottish accent! If you are reading this, just book this house, you will love it.

Wonderful as always
I think it's been four years now that I've been staying in this location when I'm in town for meetings. The house is always wonderful and there are always things that have been updated. If you're considering this location for a stay, go ahead and click the "book it" button. You will not be disappointed! I was sorry to find out that the dates of my meetings next year are when someone already has the place booked. I'm not sure I'll bother going to the meetings now! Thanks Ken and Sarah for the "home" away from home these past four years!

I can't thank you enough
Ken & Sarah, I can't thank you enough for making our first family vacation "away" from home a huge success!!! From my initial email to you and any correspondence there after, communication was always prompt and very informative. Thank you for all the extra little tidbits to help us make the best choices. My family of 5 absolutely loved the home. It had everything we could have wanted it to. The games room, even though it had a Playstation in it, for our stay never actually got turned on.....we were challenging one and another in games of skill, whether it be pool or air hockey, sometimes foosball. The close proximity to all the amenities was a huge plus. With a lot of our time being spent at the parks, your short-cut to Disney was greatly appreciated. The patio with the hot tub and pool, I can honestly say got the most use. The kids were in every morning before we started out for the day and again in the evening for a swim before bed., and I appreciated the hot tub in the evenings after our days spent at the parks. It was very relaxing! You should take pride in the service you offer your clients, it is first rate. Your management company does an excellent job, the house upon arrival was immaculate. Thank you for making your home so welcoming, and the kids LOVED the DVD collection you have. The welcome pack is a great idea, and the kids gobbled up the goodies in no time after the flight down. Any friends that are planning a trip to Orlando, who are looking for a rental property, I will surely recommend your home. Thank you for helping to make our vacation very memorable for many years to come. We all kept saying, could you imagine up all cramped up in a room at resort. We made the best choice for our family.
Our time at Serendepity
A true luxury home. We went as a family grandparents, Uncle's, Aunties, Mum and Dad and three Children aged 14, 12 and 4. And everyone loved the house, our 4 year old loved the Disney books and the Disney Video's, Our girls loved the computer and the games room and I loved the fact that they were all happy. It's in a great location and Sarah and Ken have thought of everything from Ice Boxes to Poncho's. You couldn't pick a better Villa if you want to pack light, it really is a home from home.

Our time at Serendepity
A true luxury home. We went as a family grandparents, Uncle's, Aunties, Mum and Dad and three Children aged 14, 12 and 4. And everyone loved the house, our 4 year old loved the Disney books and the Disney Video's, Our girls loved the computer and the games room and I loved the fact that they were all happy. It's in a great location and Sarah and Ken have thought of everything from Ice Boxes to Poncho's. You couldn't pick a better Villa if you want to pack light, it really is a home from home.

A brilliant villa!
I had the pleasure of staying at this villa last April with my family and was so pleased we picked it. The villa has everything you could want and more. It is beautifully decorated, very clean and has a very homely feel. We all enjoyed the pool and liked that itís wasn't over looked. There was loads of DVD, books & games provided, so much so we could have spent whole holiday in the villa and not got bored! The location is very good and really close to Disney! The area also has a good range of restaurants and shops, we particularly liked the Cracker Barrel. The owners, Ken & Sarah, are fantastic and provided brilliant customer service from the moment I first contacted them. They reply to emails very quickly and are always available to answer any questions you have. We were at the villa over easter and when we arrival at the villa my nephew was left a letter stating that eggs had been left around the villa for him to hunt. He had so much fun and we were finding eggs all though the holiday! I would highly recommend this villa and hope one day my family and I can return for another brilliant holiday.

The Perfect Holiday Base for Disney & Orlando
Serendipity is the best holdiay home we have ever stayed in. It is both luxurious and extremely clean, being exactly as described in its listing and more. Upon our arrival, following a very long flight, we were welcomed with a wonderful hamper of basics, including items such as bread, milk, tea, coffee, juice, biscuits etc. which saved us from an immediate trip to the local supermarket. The pool was also immaculately clean and this is where our boys spent most of their time when we weren't out and about. There was a very good supply of towels for use round the pool, which were also available for our use when visiting the beach if we so wished, therefore saving us the hassle of having to pack such bulky items in our suitcases. For the times the pool wasnt being used there was plenty to keep the children, and adults, amused in the games room. Then to help the kids unwind before going to bed there was a wonderful choice of childrens movies amongst the large selection of DVD's. The villa is so close to the Disney parks, we didnt have to worry about getting up extremely early to arrive for opening time. We were even able to pop back to the villa at lunchtime for something to eat and a short break before returning to the park for the afternoon. There is plenty to do in the evenings as well. We visited the Arabian Nights and Medieval Times Dinner shows, which were fantastic. Downtown Disney is also well worth a visit with its famous restraurants like The Rainbow Forest Cafe, Planet Hollywood, its disney shops and its massive cinema complex. Ken and Sarah have been fantastic hosts making us feel extremely welcome in their home, promptly answering any queries we had prior to our arrival and providing us with information on the best restaurants and attractions to visit in the area. We love this place so much we will be making our third visit in 2010. Our boys can't wait until their next holiday and are already counting down the days. For this very reason Serendipity comes very highly recommended by all of us and we hope you have as wonderful a time as we've had over the past couple of years.

Thank you from the bottom of our hearts
My wife and I would like to thank-you from the bottom of our hearts. They say that Disney makes your dreams come true and they have for my wife and me. Your home made that possible. I can't describe in words how we made the right decision in having both our kids, their spouses and my precious grand-children under one roof with us. Your home is a dream place and all of us felt at home right away. My 3 year old grandson loved the pool and the books that were there to read to him nightly. He said he liked his Nemo room and many times watched movies before bed time. He actually cried that he didn't want to leave, and still asks grandpa and grandma if we were going back to the Florida house. It seemed no matter what we needed it was right there at our finger tips. From the first e-mail to book your home, to the phone call from Ken to welcome us there. You are amazing people and hope you the best in health and happiness in the future. I will definitely recommend to my friends what a gorgeous castle we stayed at. Thank-you for letting us share your home. Ed and Jackie, Chatham Ontario, Canada.

Repeat Customer
The highest compliment in the hospitality business is repeat customers. January will mark our third visit to this home in three years. Thatís about as good as it gets. Both previous visits provided us with a beautiful home that was decorated and supplied with families in mind. From the huge collection of DVDs, the back yard pool and hot tub to the great garage game room, this home is filled with something for everyone. The sweetly themed kidsí bedrooms are delightful and the three full bathrooms keep everyone feeling like the home is their own personal castle. The hosts make the booking and payment arrangements as easy as possible and the rates are reasonable for the area. The truly wonderful thing about this location is that the owners take a personal interest in your comfort and experience and even take the time to have someone pick up food essentials for your arrival. My boys were especially happy with the donuts waiting for them on the kitchen counter. Anything you need, simply ask, and Ken and Sarah will bend over backwards to get you the information to answer your questions. Iím already looking forward to my next stay.
Add a Review