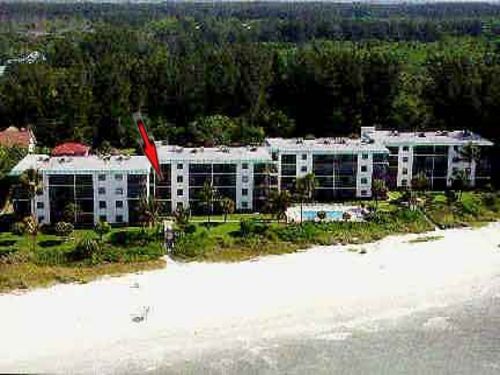 2 Bedrooms, 2 Bathrooms, Capacity: 6
1/3/15-1/10 $1850

1/10-17 $2100

1/17-24 $2250

1/24-31 $2525

1/31-2/7 $2575

2/7-14 $2675

2/14-28 $3000

2/28-3/7 $3075

3/7-4/11 $3150

4/11-17 $2500

Photo Gallery

Property Description
Bedrooms: 2. Bathrooms: 2



SPECIAL PRICING: Inquire about last minute reservations for savings up to 40%. During the four weeks prior to any arrival date, I will discount an additional 10% each week. That's 10% if booked 4 weeks in advance, 20% if booked 3 weeks in advance, 30% - 2 weeks in advance and 40% - 1 week in advance.
LOCATION, LOCATION, LOCATION are said to be the three most important considerations in identifying desireable real estate. On Sanibel Island this can be further defined to VIEWS, VIEWS and more VIEWS in selecting your vacation home.
At our unit 3A3 at Ocean's Reach Resort, we think we have a combination of location and view that can't be beat. Our unit is only 25 feet from the beach, an amenity hard to find anywhere on the Island. Located almost exactly on the elbow of the Island, the views from the beach offer both inspiring morning sunrises and spectacular evening sunsets. With limited development on both sides, the atmosphere of tropical remoteness and serenity is enhanced.
With 1000 SF of living space, the unit comfortably accommodates up to 6 people. The screened lanai overlooks the short walkway to the beach and the Gulf. There are many amenities, typically found only in premier properties. These include being professionally decorated and furnished throughout, with solid surface kitchen and bath counter tops, 42" HD flat panel TV and DVD player in the living room and 21" flat panel TVs in each bedroom, ceiling fans in all rooms and the lanai and reliable, hi-speed, wireless internet access.
We make personal and family use of the condo 6-8 weeks each year. As such, we furnish, decorate and equip the unit to the standards required to make it a comfortable second home. The kitchen is fully equipped with modern appliances. You will also find an ample supply of dishes, cookware, utensils, dishtowels and other kitchenware to meet all your needs. The dining room comfortably seats six and opens to the living room, the lanai and the spectacular ocean view. The master bedroom has a king bed and there are twin beds in the second bedroom and there is a sleep sofa in the livingroom. All linens and towels are provided and there is a washer and dryer in the unit. We try to include as many staples as possible so you don't have to run to the store as soon as you arrive and don't have to buy a month's supply of something for a one-week stay. These include items like soap, toilet paper, di
Photos
Owner Contact Information
David Herrick
David Herrick
N/A
North Andover, MA 01845
Phone:
Website:
Click here
Member Since:
Mar. 18th, 2004
Other Listings:
Contact the Owner
Rental Rates
1/3/15-1/10 $1850
1/10-17 $2100
1/17-24 $2250
1/24-31 $2525
1/31-2/7 $2575
2/7-14 $2675
2/14-28 $3000
2/28-3/7 $3075
3/7-4/11 $3150
4/11-17 $2500
Amenities
Heated Pool
, Tennis Court
, 4 Adult Bikes
, Grills
, Basketball Court
, Shuffleboard
, Covered Parking
, Beach Chairs
, Hi-speed Wireless IC
, Fully Equipped Kitch
, 3 TVs with Cable
, VCR
, All Linens
2 Bedrooms, 2 Bathrooms, Capacity: 6
Beds: 1 King, 2 Twins
Minimum Stay: 3



Beachfront, Ocean View
Further Information
Nearby Attractions: - The beach is famous for the variety of shells that are found and the surf is generally gentle and slopes gradually, making for a great swim area, especially for small children. With limited development on both sides, the atmosphere of tropical remoteness and serenity is enhanced.
Reviews
Average Rank 5 Stars from 14 Renter Reviews

January 21st, 2012
A returning guest
Dear Dave and Sandy My friend and I have used your condo on multiple occasions over the years. Itís always a pleasure to walk in and look out at the ocean view, open the doors and windows and let the breeze come in . . . the relaxation is so needed during our winter vacation. We always find the unit in tip top shape. Itís so nicely decorated . . . and I love the TV cabinet with the glass shelves and the various sea shells youíve found over time . . . lovely. I enjoy puzzles and will work on one while there . . .no rush, no hurry. Iíve also left one behind in the hope that someone else will enjoy working on it during their vacation time. I love walking the beach and picking up shells, and my friend, Joyce, feels great relaxation lying in the sun on the beach. When the breeze is a bit much, itís nice to go to the pool there, which is somewhat protected from the winds . . . but still affords plenty of sunshine and relaxation. Itís nice to see familiar faces when we come back year after year. I love the layout of the master room and bathroom . . . itís bright and cheery. Being able to just walk out a slider onto the lanai is another benefit. I donít even mind waking early to watch the sunrise Ė which I can do from the bedroom or the lanai. Stunning! I have many wonderful pictures. Joining others on the beach at sunset is a special part of the day . . . watching the beautiful sunsets and enjoying the friendly chatter with other guests. We look forward to future trips Ė and thank you for sharing your lovely spot with us. I love Sanibel Island, and hope to return again this coming year. Very truly yours, Kathy Westford, Massachusetts

April 14th, 2012
Awesome vacation
We had an awesome time at your condo on Sanibel. The check-in and check-out process was simple and the people in there were most helpful suggesting restaurants etc. It's extremely beneficial to have the check-in on the property. We especially enjoyed the use of the bikes and all the other equipment in the storage locker. Your place was well maintained and extremely clean and comfortable. We will definitely look to stay at your place again when we return to Sanibel. Diane

May 12th, 2012
Better than expected
Dave - We just wanted to let you know how much we enjoyed your beautiful condo last week. We could find no fault whatsoever. It is not often that we can say everything was better than expected, but your condo certainly fits that description. The size is perfect and the view of the Gulf was so peaceful. This was easily one of the best vacations we have had in recent years. We look forward to coming back again and again!! Best wishes, Tom and Lorraine

June 16th, 2012
An enjoyable stay
June 23, 2012 Greetings, Just wanted to let you know that we really enjoyed our recent stay at your unit in spite of the horrible weather for the first several days. Unit was exactly as portrayed - great view, exceptionally clean, quiet, and well appointed. As I am told that I sometimes have a unique perspective of things, I also really appreciated the convenient location of the assigned parking. Once again, thanks for helping make our stay at Oceans Reach such a positive one. Cy

February 21st, 2011
You Have a Review! A new review has been submitted for your property and will be automatically posted within 2 days. The review is displayed at the bottom of this message. We encourage you to submit an owner response to all reviews which will be displayed with the review on the website. Responding to a review gives you an opportunity to make additional comments about your property. Review #1340798 What a great week .absolutely the best beach week ever From the furnishings to the views. This is everything the owner promised and more. We will be back this summer. Respond to this Review Best wishes, Reviews Team VRBO Property/Unit #35388 - "2BR Gulf-Front Condo - 25 Feet to the Beach - Free Bikes" Reviewer Location Eatonton, Ga Date of Arrival Aug 8, 2009 Name on Contract Barry Chambers Review Rating [5] out of 5

David, Just wanted to send you a quick note to let you know my wife and I had another great Sanibel vacation at your condo. We both commented that in our 20+ years going to Sanibel, your condo was probably the best equipped we ever had. Thanks again and we will think of you when we book our next Sanibel vacation. Our first time at Oceans Reach and it was great. The hallway construction noise was very limited - so no real issue. Dave

August 10th, 2011
Review #3433148 Larry and Janet Our vacation was awesome in large part to this outstanding condo. There were 4 of us and the two bedroom / batthroom setup worked much better than our last Sanibel stay in a 1 bathroom hotel room. The furnishings, decor, and appliances were all top notch and everything was clean and in perfect condition. Having a washer/dryer in the condo was a godsend with the frequent visits to the beach and physical activities. The 3rd floor location provided a wonderful view of the gulf and some privacy on the lanai. I really appreciated having the quality free bikes provided and we enjoyed many fun bike rides around the island. As for the Oceans Reach complex, the tennis court was newly refinished and was a pleasure to play on. Having an assigned carport was very handy and kept our car from baking in the sun all day. My family thoroughly enjoyed our stay here and I would highly recommend this property to anyone looking for convenience, upscale ambiance, and relaxation. I would especially recommend it for families because it allows everyone to have a little private space and time unlike a hotel room. Thank you Dave and Sandy for sharing your lovely home! We'll be back! Respond to this Review Best wishes, Reviews Team VRBO

October 20th, 2011
Dear David: Just a note to tell you how much we enjoyed our stay in your Sanibel condo! The location couldn't have been better--close to everything by car or bike, but private and secluded as well. The decor in the condo was charming and up-to-date, and right next to the elevator for loading and unloading, The views of the beach were fabulous! The beach itself was beautiful and loaded with shells--I had to buy two tote bags to bring them all home! And finally, you supplied everything, right down to bicycles, beach chairs, and umbrellas! Most of the other units required separate rentals for these items. We appreciate all your attention to detail and your friendly attitude as well! Thanks so much!! We hope to spend lots of time in your condo again in the future! Cindy

November 10th, 2011
We just wanted to let you know how much we enjoyed our stay at Ocean's Reach on Sanibel Island. The accommodations were just as we had hoped...relaxing, beautiful, tranquil. Thanks, again, for your assistance with the condo. Andrea and Ted

December 15th, 2011
David, Our recent two week stay at your condo at Oceanís Reach was outstanding. We have visited Sanibel many times but this is the first time renting a condo. It was a great experience. The condo provided everything we needed and then some. The view and closeness to the beach were especially nice. The Oceanís Reach complex and staff are superior to other places we have stayed. We will be back. Thank You, Rich Green ________________________________________

June 18th, 2011
June, 2011 Mr. Herrick, I wanted to let you know that our recent stay at Ocean's Reach was one of the best beach vacations we have ever had! The condo was absolutely immaculate and we enjoyed the view of the gulf every minute we were there! To my surprise, my oldest daughter flew in and joined us for a few days. It had been 11 years since the three of us had time alone like that! We will definitely be coming back! Have a wonderful summer and thank you again for your help! Teresa

May 12th, 2012
Hello David, I have been meaning to email you since we returned from Sanibel. Just wanted to say what a wonderful time we had. Your condo was perfect in every way and we were delighted when we saw it, there was everything we could have needed, with a view to rival anything else we have seen! The bikes were great (we used 2 adult ones and went to Billy's for the kids). We found some wonderful restaurants, and even better sunsets! Thanks again for everything, we hope to be back one day! We will also recommend you to any of our friends heading to Florida. Lisa

March 12th, 2011
Hi Dave, Your condo at Oceanís Reach provided THE most relaxing vacation Iíve had in years! The location on Sanibel is just perfect Ė out of the Periwinkle Way bustle, but accessible to everything. The condo was so well appointed that, by the time I left, I felt I had been living there for months. It was great to be able to use your bikes and beach chairs, after flying in from Chicago. Finally, your condoís situation in the complex is ideal Ė high enough up to avoid the foot traffic to beach and pool, but with beautiful gulf views. I was happy to book immediately for next year! Best, Marie

January 8th, 2011
Hi Dave, Just wanted to drop you a note to say how much we enjoyed staying at your condo at Ocean's Reach! It really was like paradise and was the exact quiet R N' R that we needed! The weather was unbelievably perfect the entire week - I did not expect it to be that hot in October, even in Florida. The wildlife was amazing! We were so lucky to get there on the Sat. night just before it got dark and the view when we opened the condo hall door, took my breath away!! Sanibel is really a special place! You have created a really beautiful home there - I hope you and Sandy get to enjoy it often! Hopefully we can come back - soon! Thanks again for sharing your home with us, Caroline & Eddie
Add a Review