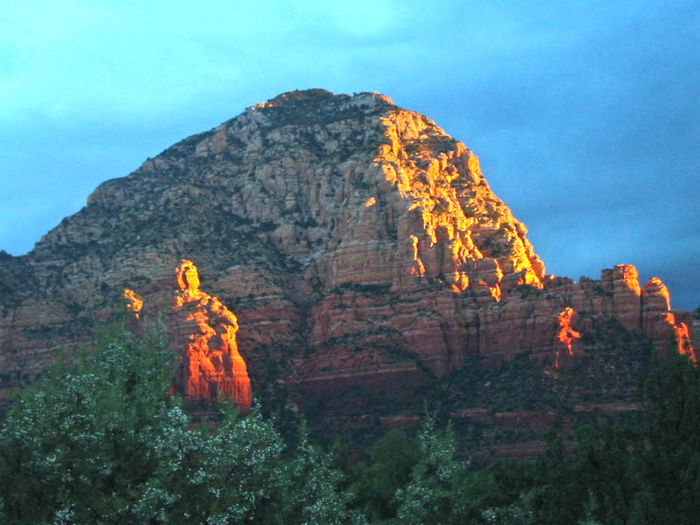 Owner's Calendar
1 Bedrooms, 1 Bathrooms, Capacity: 4
Owner Contact Information
Private Owner
Jerry
Call For Directions
Sedona, AZ 86336
Phone:
Website:
Click here
Member Since:
Nov. 19th, 2007
Other Listings:
View here
Rental Rates
1 Bedrooms, 1 Bathrooms, Capacity: 4
Call for rates and availability
928 - 251 - 0003
Please leave your phone number
when inquiring online
Property Description
Bedrooms: 1. Bathrooms: 1



This cottage is your perfect retreat style accommodation to take in the views and experience the 'Soul of Sedona.' This recently remodeled cottage is conveniently located in the highly desirable West Sedona area walking distance from hiking trails and within a mile from shopping, restaurants and movie theaters. Enjoy our beautiful design and decor which are complimented by unbelievable surroundings and spectacular Sedona Red Rock Views. Your private enclosed courtyard is an ideal place to enjoy breakfast or stargaze at night. This property includes numerous luxury amenities including a fireplace in the living room, cable flat screen TV/DVD/VCR, IPOD docking station, high speed Wi-Fi. Bathroom features a glass block and stone shower. Additional features include a large walk-in closet, washer/dryer and comfortable king sized bed. Our return visitors rate us the best in Sedona.
ALL ARRIVALS AND DEPARTURES OCCUR ON A SATURDAY.
Photos
Amenities
Private Location
, Fireplace
, Red Rock Views
, Full Size Kitchen
, BBQ, Hot Tub
, Air Conditioning
, Beautiful Courtyard
, King Size Bed
, Queen Sofa Sleeper
, High Speed Internet
, Telephone, Cable
, Fully Equipped
, Red Rock Pass
, Video Library
1 Bedrooms, 1 Bathrooms, Capacity: 4
Beds: King Size and Queen Sofa Sleeper
Minimum Stay: Please Call for availability



Further Information
Cleaning Fee: $100
Restrictions: - Monthly
Nearby Attractions: - Nearby: Hiking, Biking, Golf, Oak Creek Fishing, Hourseback Riding, ATV Rental, Jeep Tours, Shopping, Restaurants, Live Theater, Harkins Movie Theaters, Museums, Verde and Grand Canyon Train Rides, Blazin' M Chuckwagon Dinner Theater, Indian Ruins, National and State Parks (including Slide Rock Park), Jerome Ghost Mining Town, Flagstaff Observatory, Downhill and Cross-Country Skiing, Winery Tours and Wine Tasting, New and Full Moon Ceremonies, New Age, Spritual and Mystical Adventures.&a
Reviews
Average Rank 5 Stars from 19 Renter Reviews

.........we'll be back
A fabulous and perfect time evidenced by us extending our stay by an extra week (and still wanted more). Sedona is superb, but our stay was made infinitely more special and enjoyable by this cottage and the owner. Jerry is a legend; he pitched it perfectly giving us tips on everything from trails to restaurants and supermarkets. All of it spot-on advice and without intrusion. Excellent value/cleanliness and position. Thank you for a time we will treasure forever - we will be back.

Perfect Choice
The Sedona Guest Cottage is my favorite vacation place in the U.S. It is so comfortable and relaxing. The cottage is well equiped with all you need. The hot tub is so relaxing with a view of the night sky. There is a front patio to enjoy morning coffee and late night drinks. The cottage is centrally located to all of Sedona. Our host Jerry is so nice and knowledgable about the area.If you have a dog it is a great place with trails within walking distance of the cottage. I can not say enough about how much we love the cottage and Sedona.

My Sedona Home
From the moment I crossed the threshold into the amazing cottage, I knew that I had made a wonderful choice. It was all that I had dared to expect -and more. It is open and inviting and seems to be an extension of the red rocks that surround it ( and are visable from every room.) It is the perfect place for a retreat or romantic getaway. Jerry has anticipated every need and provides as much orientation and info as you require. I noted that in my journal I always returned "home" after my area adventures.

luc is relaxed
This was our 2nd visit. The cottage is such a great place to stay in Sedona. My dog Luc thinks this is the best vacation place ever.... There are hiking trails within walking distance and a wonderful hot tub to enjoy at night(me not Luc) Jerry is a great host. I would recommend the cottage to anyone who needs a relaxing and beautiful place to be.

Absolutely Perfect!
This was the second trip to Sedona for myself and my husband, but the first time renting a house - all I can say is we wish we did this the first time around!!!! The house is spotless and has everything you need for everyday living. Entering the house to a beautiful gift basket and soothing music was the cherry on the top.Jerry is a very kind, thoughtful man who gives you your privacy,or if you need him for anything he'll be right there. We highly recommend this little bit of paradise in Sedona, it's clean,it's safe, and it's affordable! We will return!

Why stay in a hotel?
We absolutely loved our stay in the Sedona Guest Cottage. It's high ceilings make it feel quite spacious. It's filled with interesting art and eclectic pieces. We were greeted by soothing music and a gorgeous gift basket. The owner left us many updated guides and local magazines and gave us excellent recommendations for hiking and dining. The location is perfect, very close to shops and dining, within walking distance of some outstanding hiking, but off of the main streets so it's very quiet and peaceful. It was just the perfect place to come home to after a long day of enjoying beautiful Sedona. Would HIGHLY recommend.

Great Location in Sedona
Our stay at Jerry's cottage was our first visit to Sedona. It was everything we could have wanted and more. He was a wonderful host and the cottage was a perfect retreat for my wife and I and our dogs. Like most accommodations, it was well furnished and very comfortable. What separates his place from others was the great location as to hiking, restaurants, and shopping. The north-west side of Sedona near the hills was a great place to be. We hope to be back next winter.

Lovely Sedona
Chris and I visited the Sedona Guest Cottage in late February 2011 for a week as a getaway from the frigid cold temperatures in Washington State. We woke the first morning in the guest cottage to snow covered trees and red rock. The snow melted by the afternoon and we spent the rest of a glorious week hiking in low to mid 60 degree weather. We had a fabulous massage with Kimberly (Jerry's friend) at the cottage mid week. We cooked all of our meals and enjoyed the hot tub every day. The cottage was perfect for our needs. Jerry's hospitality and respect for our privacy was a perfect combination. We will definitely be back and wouldn't consider staying anywhere else. We left Sedona rested, relaxed and deeply inspired to return. A soulful retreat! Thank you Jerry!

Great Choice
We really enjoyed our stay at the guest cottage. It was comfy and clean.The view I had every morning as I drank my cofee was tremendous and inspiring. Each day I walked to the sugar loaf trail head and hiked.(What a way to start a day).It was ideal to be able to cook dinner at home and just relax. My dog was able to come with us,and after a hike I would lay his bed in front of the fireplace and a more contented dog you will not find.For me a relaxing soak in the hot tub is always a good thing.The neigborhood is nice and quiet.It is a central location. Easy to get to all the attractions in the area. The view of the night sky is tremendous. I would highly recommend this cottage to everyone.

A real home away from home
It was our third stay in Sedona but the first time at this lovely place. The location is beautiful and quiet. Everything what is listed is accurate and the property it is very clean and well maintained. We missed nothing. We enjoyed to relax in the living room as well as in the hot tub outside. Sitting on the patio was wonderful to just enjoy the silence around. We could sleep very well in this most beautiful wood bed. At night you can see the stars and in the morning the red rocks through the window laying in bed. The owner Jerry is really a wonderful person. He was so caring and provided more than only a "good customer service". He is organizing special ceremonies and is well connected to the community so you can ask him whatever you want to know. He shoes us special trails and places where to go to and he was always available for us whenever we had a question. With a car you are very quick in all directions and locations you want to go to.We highly recommend to stay there and when we come back zu Sedona we definitely come back to Jerry´s cottage. Thank you Jerry - Beate & Martin from Germany

Hard to leave
We were there for a week and have returned home relaxed, refreshed and re-charged! From doing Yoga at sunrise on the patio, to falling into the King sized bed each night, this is THE one and only place to stay in Sedona! Everything you need for your stay has been anticipated by Jerry...laundry soap to wash off the red dust after each tremendous hike, coffee filters ( no need to run out to the store!), books, Music, etc, it is all right there. Jordan, Jerry's dog, even makes you feel welcome! The only negative?...We had to leave! Sitting on the patio at sun up on our last day, with the fragrance of honeysuckle and the buzzing bees and many birds to greet the day...who wants to come back to Chicago? What you see in the description is what you get, and more. Clean, comfortable, well maintained. Walking distance to a trail head for excellent hiking, short drive to shops and restaurants....visit the UFO information store in uptown...so much fun!

Comforts of home in Sedona
If you are planning a week in Sedona, THIS is the place to stay. There is nothing like having a little house of your own while you are on vacation, rather that suffering the confines (and expense) of a hotel, say, on a bad weather day. This particular little house is spacious, modern, clean, comfortable, has all the amenities you were looking for, and it is priced just right. The kitchen is complete for preparing your meals, plus there's an outside grill just for you to use. The bedroom has a king-size bed, the living room a gas fireplace, and hooray -- there's a washer/dryer next to the bathroom. The location is in a neighborhood on a not-busy road. And there are no street lights to interfere with your contemplating the Big Dipper in the astonishing quiet of an Arizona night. The bonus is your host, Jerry Gilden. Jerry is a wonderfully nice, kind, generous guy with a welcoming smile on his face. He lives close by, up the incline in back, and is never too busy to answer your where's-the-best-restaurant, how-long-will-it-take-us-to-get-to-, and which-is-the-switch-for-the-patio-lights questions. My husband and I are happy to give this little casita -- and its owner -- a perfect score.

Above and Beyond
We could not have asked for anything more, it was wonderful the views are gorgeous and you are close to everything you could want to see or need. This is such a peaceful and serene location you have a lovely hot tub and the cottage is filled with beautiful decor and wonderful reading. Jerry is your host he gives you your privacy but is there if you need his help in which we did and he went above and beyond for us, he is a Sedona Guru and more than gracious host If you are considering a Sedona getaway this is it.--THE BEST IN SEDONA. Marsha and Chris

Honeymoon + This House = Magical!!
This place was absolutely wonderful! My wife and I had our honeymoon here and had an unbelievable experience. Jerry was fantastic and a wonderful help. The house has great character and is clean, cozy, and comfortable. It truly felt like a home away from home. We loved the books that had some suggestions for things to see and do. Overall, this place was fantastic, and we can't wait to make another trip back!!
No way to describe this without going yourself
My wife and I stayed at the Sedona Guess Cottage for our anniversary. This house is just great. Perfect location for anything you want to do. Jerry is such a great host. I can't think of a single thing that we did not like about our visit. We are going to be back for sure. Thanks Jerry for a wonderful week! Dave & Lynn

location location location
What a perfect place ! Perfectly situated between great Red Rock hiking trails and every convenience down the hill, the cottage is in a quiet neighborhood that makes you feel like you really live in Sedona and are not just a tourist. It is beautifully decorated and so very comfortable you won't want to leave. Jerry, our host, is someone we'd really like to know better - a fascinating spiritual man. We had a wonderful stay and can't wait to return.

Incredibly delightful
This truly is the soul of Sedona. If you are looking for a special, sacred nest for a truly memorable getaway, this is it. The accommodations are so clean and comfortable with great attention to detail, and the owner is just a delightful person. The location, neighborhood, everything just couldn't have been better. One of our favorite things was going outside to the private courtyard and being greeted by the fragrance of honeysuckle--that was just the icing on the cake. One of our favorite places to eat is the Heartline Cafe. We loved the mountain views and being able to walk to the trail head for hiking. Obviously, I'd go back in a heartbeat and highly recommend it.

The perfect home away from home
I stayed twice at the cottage. Both time it was a joy. Jerry is a perfect host,his description of the house and the amenities is not only accurate, but probably it is modest. The cleanliness, the quality of the linen the decorator touches help to have a perfect vacation. My Sedona's friends are in love with it , as I am. I would recommend it to the more sophisticated traveler. Sedona has a great choice of restaurants and activities. I am planning to go back in the autumn.

AMAZING!
The guest house was perfect! Spacious, beautifully decorated and maintained. The host was perfect; there if we needed him but never intrusive. He provided everything we asked for and offered some things we never thought of. Not only would I recommend this cottage to my pickiest friend, but I can't wait to go back again! A five rating isn't high enough, it was at least a ten!
Add a Review